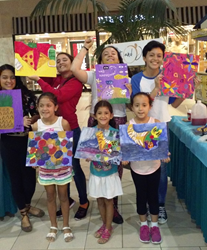 "The holidays are always extra special when we see families enjoying our Festive Friday events" says Maggie Anzardo, Marketing Director of Southland Mall.
Cutler Bay, FL (PRWEB) December 01, 2015
The holiday season brings a new series of cultural events and interactive activities for children at Southland Mall. Every Friday evening, shoppers will be able to enjoy special live performances or fun instructional workshops alongside their family and friends. The "Festive Friday" stage is located next to the children's carousel at Center Court and each event runs from 6:00 p.m. to 8:00 p.m.
Below is a list of events for the month of December:

December 4th – Raquel Torrent presents an exclusive "Art & Juice" holiday workshop. Put on your aprons and get ready to paint a masterpiece! By following Torrent's easy-to-follow instructions, children will paint their own Christmas themed piece of artwork.
December 11th – Palm Glades Preparatory Academy will feature a performance by their step group, cheer squad, flagettes and hip hop dancers.
December 18th – Instructors from TUFF Martial Arts Academy will show you how their students win championships and black belts in karate! Watch their top students while they practice their newest karate demonstrations which are kid friendly.
"Festive Fridays" are free events that are open to the public. Southland Mall is conveniently located on U.S. 1 and S.W. 205th Street, off the Florida Turnpike, Exits 11 or 12. For more information on Southland Mall or to learn about partnership opportunities for upcoming "Festive Fridays," email inquiries to info(at)thinkpeacock(dot)com.
###
About Southland Mall
Southland Mall, located in South Miami-Dade County, Florida, the densest, most populous county in the southeastern portion of the state of Florida, has over 1 million square feet of gross leasable area. Southland Mall is conveniently located on U.S. 1 and SW 205th Street, off the Florida Turnpike, Exits 11 or 12, and is the only enclosed regional mall servicing South Miami-Dade County down to the Florida Keys. Southland houses over 100 specialty stores, including Macy's, Sears, JC Penney, TJ Maxx, Old Navy, Starbucks, a 16-Plex Regal Cinema and diverse Food Court. For more information about Southland Mall, visit mysouthlandmall.com on your mobile device, follow us on Twitter @solandmall, 'Like' us on Facebook at southlandmallmiami, or call (305) 235-8880.
About Gumberg Asset Management Corp.
Gumberg Asset Management Corp., a diversified real estate retail organization with a tradition of uncompromising integrity and unbeatable performance is the manager of Southland Mall. For further information, visit the Company's website at http://www.gumberg.com.