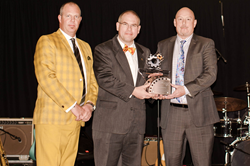 "This award means a lot to Powerblanket," said Brent Reddekopp, President of the company. "We've often declared ourselves as a leader in the heating solutions space, and it's great to have UMA support that claim with this award."
Salt Lake City, Utah (PRWEB) December 03, 2015
Powerblanket recently released information regarding the company's acquisition of the Manufacturer of the Year award from Utah Manufacturers Association (UMA). This prestigious award is given annually to the Utah-based manufacturer that proves to have created an innovative impact on the industry it serves.
The Manufacturer of the Year award is given on behalf of the Utah Manufacturers Association (UMA). UMA has been around since 1905 offering the "voice of industry" in the state for over 107 years. UMA is a trade association with a goal for enhancing and improving the business climate in Utah. UMA offers insight and experience in the legislative processes of state government, vying for the interests of Utah businesses and the overall economy.
The Manufacturer of the Year award embodies the mission of UMA by awarding the company that not only proves innovative in their respective markets, but also offers leadership in their industry. Powerblanket was chosen to receive this award for 2015 due to these factors and others. According to UMA, Powerblanket received the award "for their outstanding performance in operational excellence, economic achievement, workplace safety, community outreach, and fidelity to the principles of free enterprise."
"This award means a lot to Powerblanket," said Brent Reddekopp, President of the company. "We have experienced steady growth over the last several years and have added new and impactful technologies to your product line. We've often declared ourselves as a leader in the heating solutions space, and it's great to have UMA support that claim with this award."
More about Powerblanket
Powerblanket® started in 2005 in Salt Lake City, Utah with one goal – to solve heating problems. Since that time, Powerblanket has become an industry leader in offering such solutions to the construction sector. Featuring patented GreenHeat™ technology, Powerblanket products delivers a barrier of uniform, directional heat where it's needed most – preventing freezing problems and maintaining optimal temperatures. This Innovative heat-spreading technology insulates, protects, and maintains heat in a wide variety of applications. Discover how Powerblanket GreenHeat™ Technology can dramatically improve your output…and bottom line. For more information about Powerblanket,click here.