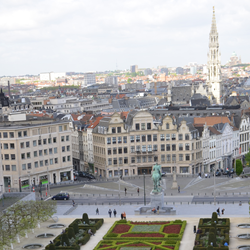 SPIE Photonics Europe 2016 will again be the place to meet for academia and industry, and a unique forum for building on the tremendous success of the Year of Light.
CARDIFF, UK (PRWEB) December 01, 2015
International research leaders will give the keynote talks at SPIE Photonics Europe 2016, the premier research conference in Europe on photonics, optics, lasers, and micro/nanotechnologies, in Brussels next April.
The event will run 4-7 April 2016 in the Square Brussels Meeting Centre. Complete information is at http://www.spie.org/photonics-europe.xml.
Supported by organisations from across Europe and sponsored by SPIE, the international society for optics and photonics, Photonics Europe includes conferences on metamaterials, nanophotonics, biophotonics, optical sensing, photonic fibres, and laser technologies, among others. This year, a new conference on quantum technologies and a workshop on graphene materials have been added. Overall, approximately 1,200 technical talks are scheduled.
Featured speakers will include:

Miles Padgett, University of Glasgow
Ferenc Krausz, Max-Planck-Institute for Quantum Optics
Wolfgang Sandner, Technische Universität Berlin and the Extreme Light Infrastructure Delivery Consortium (ELI-DC) International Association
Wolfgang Boch, Head, European Commission Photonics Unit
Michael Liehr, Colleges of Nanoscale Science and Engineering of SUNY Polytechnic Institute; recently named CEO of AIM Photonics, the new integrated photonics research and manufacturing facility being funded with a U.S. Department of Defense grant of US$110 million and US$500 million in other public and private funds
David Sampson, University of Western Australia
John Dudley, Université Franche-Comté
Cesar Jauregui Misas, Friedrich Schiller-Universität Jena.
A two-day exhibition will showcase the latest equipment from the industry's leading suppliers of optical components, lasers, fiber optics, detectors, sensors, cameras, and other instrumentation for optics and photonics.
A full day of industry-focused presentations will include keynote talks providing updates on Horizon 2020, major EC-funded projects, and the global photonics market; and a panel discussion on strategies for successful commercialisation.
The Photonics Innovation Village competition, organised by the Brussels Photonics Team (B-PHOT) at Vrije Universiteit Brussel (VUB), will again be featured in the exhibition.
A European Village in the exhibition hall will provide visibility for photonics-related consortia invited by the European Commission Photonics Unit.
"I am convinced that this fourth edition of SPIE Photonics Europe 2016 in Brussels will again be the place to meet for academia and industry, and a unique forum for building on the tremendous success of the Year of Light 2015," said Francis Berghmans of VUB. He serves as General Chair along with Ronan Burgess of the EC Photonics Unit, Jürgen Popp of the Institute of Photonic Technology Jena e.V., and Peter Hartmann, Schott AG. Hugo Thienpont of VUB is Honorary Chair.
Along with sponsor SPIE Europe, co-sponsoring organisations are B-PHOT, FWO Research Foundation Flanders, the Knowledge Transfer Network, Photonics 21, and Visit Brussels. The European Optical Society is a cooperating organisation.
About SPIE
SPIE is the international society for optics and photonics, an educational not-for-profit organization founded in 1955 to advance light-based science and technology. The Society serves nearly 264,000 constituents from approximately 166 countries, offering conferences and their published proceedings, continuing education, books, journals, and the SPIE Digital Library in support of interdisciplinary information exchange, professional networking, and patent precedent. In 2015, SPIE has provided more than $5.2 million in support of education and outreach programs. SPIE is a Founding Partner of the International Year of Light and Light-based Technologies. http://www.spie.org