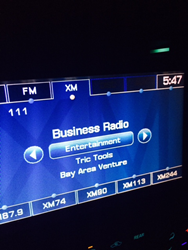 I can't imagine a more impressive facility in San Francisco.
Alameda, CA (PRWEB) December 02, 2015
TRIC Tools CEO Ward Carter and Marketing Director John Rafferty appeared on SiriusXM Satellite Radio's Bay Area Ventures on November 23rd. Bay Area Ventures is a weekly program hosted by Donald Landwirth on SiriusXM's Channel 111 Business Radio Powered by the Wharton School. https://businessradio.wharton.upenn.edu/programs/bay-area-ventures TRIC Tools, Inc. is a Trenchless Pipe Bursting Manufacturer based in Alameda, CA.
Donald Landwirth had a personal connection with TRIC technology after constructing an addition to his home. He found out that he needed a sewer inspection in order to have his property pass inspection. He first contacted Myles O'Dwyer of Pipespy in Greenbrae, CA. Myles told him that Pipespy doesn't work in Redwood City but suggested he contact Gregg Abbott, TRIC's Director of Sales. Gregg referred Donald to Bob Zamaroni of Quality 1st Plumbing in Sunnyvale, CA. Both Pipespy and Quality 1st Plumbing have used TRIC pipe bursting equipment for over 15 years. After videoing the sewer line Bob suggested that Donald have his home contractors repair his sewer via open cut, as it was flat and not on grade. Bob described the pipe bursting process and how it often saves lots of time and money; however, in this case, pipe bursting wouldn't correct his sewer line to code. Donald was very pleased that Bob didn't try to do work that wouldn't help his situation. After the job Donald reconnected with Gregg Abbott to find out more about TRIC and its technology.
Following the air date, the show is available for download or streaming on-demand to all 30MM+ Sirius XM subscribers for 30-40 days. During the Show, Mr. Landwirth discussed with Mr. Carter and Mr. Rafferty TRIC's invention, its history, innovation, customer satisfaction and practicality. 2015 is TRIC's 18th year in business in providing the smallest and most adaptable lateral pipe bursting system in the industry. Both Ward and John really enjoyed the event and were very impressed with the studios. "I can't imagine a more impressive facility in San Francisco," Mr. Carter remarked.
TRIC invented and patented the first Lateral Pipe Bursting System while simultaneously gaining national approval of HDPE pipe for its use, thus opening the market for trenchless home sewer replacement in America.
For more information about Trenchless Pipe Bursting equipment or the Trenchless Industry in general - please call 888-883-8742 or visit TRIC's website at http://www.trictrenchless.com to see how they can answer any of these questions for you. Get your Trenchless Sewer and Water Replacement service off on the right foot, one lateral at a time.