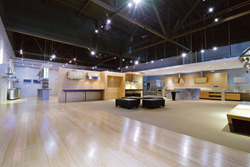 "We were excited to kick-off our first Zephyr-sponsored Blogger Retreat with this energetic and influential group of bloggers. We enjoyed getting to know them all and showing them around our city" Luke Siow, Zephyr President
San Francisco, CA (PRWEB) December 02, 2015
Zephyr, the industry leader in ventilation hood design, innovation, and technology, hosted its first Zephyr Blogger Retreat from November 3rd – 6th, 2015. Zephyr curated an experience for the bloggers that included the best food, design, and wine in San Francisco and Napa, and showcased new products in its 6,000 square-foot SF Showroom
Zephyr values its relationships with design and lifestyle bloggers and invited 10 bloggers to attend a 3-day retreat and cover the events on their blogs and social media sites. The bloggers in attendance included: Arianne Bellizaire (Inspired to Style), Brandon Smith (DCoop Media), Courtney Price, Florence von Pelet (Modenus), Franki Durbin, Kelly Morisseau, René Zieg (Cottage and Vine), Sarah Sarna, and Traci Zeller.
The Zephyr Blogger Retreat began in San Francisco's Design District where the group learned more about Zephyr's new products and technology, and received a presentation from its Cheng Collection Designer, Fu-Tung Cheng. The bloggers also visited Daltile Showroom, an industry-leading brand of ceramic, porcelain, glass and metal tile products, and Coup d'Etat – a San Francisco gallery featuring eclectic vintage furnishings, art offerings, and Coup d'Etat Stuio Customs line.
In addition to visiting award-winning restaurants, the bloggers experienced wine country in Napa Valley with tastings, an art gallery tour, and lunch. The day concluded with a tour of the Traditional Home Showhouse in downtown Napa.
Throughout the Blogger Retreat, Zephyr received ongoing coverage under the hashtag #ZephyrBloggerRetreat with more than 2.1 million impressions across various social media channels.
"We were excited to kick-off our first Zephyr-sponsored Blogger Retreat with this energetic and influential group of bloggers," says Zephyr President, Luke Siow. "We enjoyed getting to know them all and showing them around our city; we'll definitely continue these retreats in the future."
Coverage from the Zephyr Blogger Retreat can be found here.
About Zephyr
Since 1997, San Francisco-based Zephyr has continued to bring design, innovation and technology to the forefront of the kitchen ventilation hood industry. The company has challenged the perception of what ventilation means in kitchen design and created a new awareness of the importance of a high performing ventilation system. With acclaimed talent such as artistic visionary, Fu-Tung Cheng, and industrial designer, Robert Brunner, Zephyr is able to create cutting-edge residential range hoods unlike any other company. In addition, Zephyr has pioneered ventilation hood technology with the industry's first DCBL Suppression System; an exclusive innovation that delivers the most silent, energy efficient and performance-driven range hoods available today. As a direct result of its commitment to elevating range hood design and technology, Zephyr is the recipient of several prestigious awards including Consumer Report Buy Rating, Consumer Digest Best Buy Rating, Chicago Athenaeum Good Design, ADEX (Awards for Design Excellence), Appliance Design 'Excellence In Design' and the Architectural Products 'Product Innovation Award.'