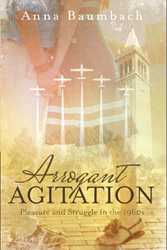 The best part of the world comes from people holding different ideas, different social backgrounds, different religions, or different careers
SAN FRANCISCO (PRWEB) December 08, 2015
In today's society there are a plethora of individuals all with different religions, cultures, backgrounds and beliefs. For this reason, it is more important than ever that individuals challenge themselves to assess their own and investigate alternative belief systems in order to grow both personally and professionally.
"Arrogant Agitation: Pleasure and Struggle in the 1960s," by Anna Baumbach shares timeless lessons learned during a unique time period in the early 1960s when social morals and beliefs began to be challenged and questioned by individuals.
"I had a pressing desire to capture the distinctive time period and I also wanted to tell the story of an extraordinary romance that was exceedingly complicated," Baumbach says.
Based on a true story, "Arrogant Agitation" follows the lives of four post-graduate young adults all with different social and religious backgrounds who are drawn together by an unintended romance and the desire to dispute the principles upon which they were raised.
"The best part of the world comes from people holding different ideas, different social backgrounds, different religions, or different careers," Baumbach says. "Associating with those who differ from us in some way makes life both interesting and fun and can lead to personal and professional growth."
"Arrogant Agitation" explores the uncertainty and excitement of questioning the beliefs one is raised to adhere to and the ultimate benefit of doing so.
"Arrogant Agitation: Pleasure and Struggle in the 1960s"
By: Anna Baumbach
ISBN: 978-1-4808-1816-3
Available in softcover, hardcover, e-book
Available on Amazon, Barnes & Noble and Archway Publishing
About the author:
After graduating with her bachelor's degree from the University of California Berkeley and with her master's degree from California State University Stanislaus, Anna Baumbach spent her career owning and operating several of her own businesses. In her free time, Baumbach is an active member of Lawrence Livermore National Laboratory (LLNL) Retiree's Association and the Active Women of Livermore.
# # #
For review copies or interview requests, contact:
Brittney Beck
630.336.1072
bbeck(at)bohlsengroup(dot)com