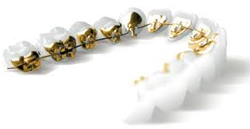 Smile With Confidence
Worthing, West Sussex (PRWEB UK) 4 December 2015
It's never too late to achieve the perfect smile, and Dr. Cecilia Sanchez from the Brighton Implant Clinic & Advanced Dentistry is introducing Incognito Braces - an innovative solution for adults who have decided to take the plunge to correct the alignment of their teeth.
Orthodontists will tell you that more than half of their patients are adults, who have decided to correct crooked or crowded teeth that have been bothering them for years – however many adults question having a mouth full of metal or uncomfortable braces that attract attention.
Dr. Sanchez is now specializing in the fitting of Incognito Braces – a cutting-edge solution that is completely invisible from the outside, allowing the patient to smile brightly throughout their treatment period without anyone knowing they are wearing braces.
Incognito braces don't have to be removed for eating, drinking or sleeping, so they're always on and working towards achieving your perfect smile, regardless of the event you are attending or what you're doing.
These new and innovative braces are 100% customized for each individual smile.
Clinical Director and Founder of the Brighton Implant Clinic, Dr. Bruno Silva, said even though adults may have had braces at a young age, there still might be a need for re-alignment.
"Our teeth move throughout each individual's lifetime, so even if they were perfect after braces, they will continue to change position and might need to be brought back into perfect alignment.
"It's fantastic that we can offer such a subtle but effective solution that will be the deciding factor for many adults who have avoided corrective orthodontic work because of the impact on their appearance," Dr. Silva said.
Cosmetic reasons aside, straight teeth allow for improved dental hygiene – flossing at difficult angles and brushing hard-to-reach nooks and crannies become things of the past.
In addition to assessing patients for Incognito suitability, Dr. Cecilia Sanchez is an expert in Orthodontics and TMJ disorders.
Dr. Sanchez has an impressive resume, which has seen her career progress from various roles in Argentina, including at her own dental practice, to extensive experience in the United Kingdom.
Dr. Sanchez is available in the Worthing branch of the Brighton Implant Clinic & Advanced Dentistry.

For further information, images or interviews, please contact:
Dr. Bruno Silva
Clinical Director
Brighton Implant Clinic & Advanced Dental Surgery
Tel: 0800 1116625
http://www.brightonimplantclinic.co.uk
About Brighton Implant Clinic & Advanced Dental Surgery
Brighton Implant Clinic & Advanced Dental Surgery was established in 2009 in Hove, East Sussex and now has branches in Brighton and Hailsham. The group of clinics provide affordable dental implant treatment across the South East of England
These welcoming clinics feature state-of-the-art facilities, the latest in dental technologies and speedy treatment plans at affordable prices.
An experienced team of experienced, friendly and professional dental nurses, technicians and administrative staff await you at Brighton Implant Clinic & Advanced Dental Surgery.