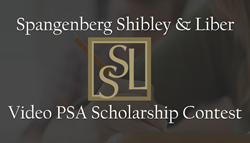 By creating this college scholarship contest, The Spangenberg Law Firm hopes to engage young people in creating video public service announcements that will inspire viewers to become part of the solution in addressing important issues. Peter H. Weinberger
Cleveland, Ohio (PRWEB) December 03, 2015
Since 1946, The Spangenberg Law firm has been fighting for justice on behalf of injured parties throughout the United States — whether personal injury, medical malpractice, pharmaceutical torts, consumer class actions, or in disputes between businesses. We are passionate about serving the community and about protecting the rights of our clients.
We invite students who will be enrolled next year in college and who share our passion about important societal issues to participate in our 2016 Spangenberg Law Firm Video PSA College Scholarship Contest. Entrants will submit their original 30-to-60-second video Public Service Announcement (also known as a PSA) on one of the following four topics:

What can students do to help prevent bullying?
Elections: Why is voting important?
How can we help young people make healthier food choices at home and in school?
Distracted driving: What can young people do to help end this epidemic?
SELECTION CRITERIA
The Spangenberg Law Firm Video College Scholarship Program challenges entrants to create an original, compelling, and impactful video PSA that addresses the selected topic, engages its viewers and inspires them to become part of the solution. The video must be between 30 and 60 seconds. Entries will be evaluated on originality, creativity, strength of message, and ability to inspire viewers. The deadline is 11:59pm Eastern on Friday, April 15, 2016.
Up to 10 Finalists will be selected; their video PSAs will be posted on http://www.Spanglaw.com/Scholarship.
The first prize winner, who will be awarded a $2,000 scholarship, will be selected by our Selection Committee. The second prize winner, who will receive a $1,000 scholarship, will be selected by popular vote. Viewers will be allowed to vote for their favorite at http://www.Spanglaw.Com/Scholarship. The qualifying entry that receives the most votes during the public voting period will be the second prize winner.
ADDITIONAL INFORMATION:
Interested participants can learn more about the Video PSA College Scholarship Contest, including the eligibility criteria and instructions for entry submission, at:
http://www.Spanglaw.com/Scholarship.
About Spangenberg Shibley & Liber
Spangenberg Shibley & Liber LLP handles a broad range of personal injury, dangerous products, medical malpractice, workplace injury, nursing home and elder abuse and civil rights cases. It also litigates a variety of property damage and insurance coverage cases. For more information or to contact a Spangenberg attorney, please visit http://www.spanglaw.com or call 216.696.3232.
###