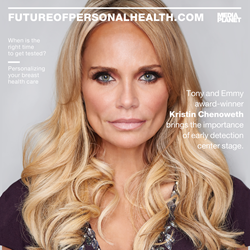 About 1 in 8 women in the U.S.—just over 12 percent—will develop invasive breast cancer over the course of her lifetime.
New York, NY (PRWEB) December 04, 2015
About 1 in 8 women in the U.S.—just over 12 percent—will develop invasive breast cancer over the course of her lifetime. Breast Cancer Awareness Month does its job in increasing awareness and education about breast cancer in October, however education is not the problem. While most people are aware of breast cancer, many forget to take the steps to have a plan to detect the disease in its early stages or their risk, which is the best way to survive.
With so much innovation and research happening in the industry, we are close to a cure. But women are still at risk. Early detection is key to this deadly disease, but many young women (and men) get caught up in day-to-day life, forgetting and neglecting the several preventative measures available to them.
The print component of "Breast Cancer Care" is distributed within today's edition of USA Today in New York, Los Angeles, Chicago, Washington DC/Baltimore, Seattle, Minneapolis, Houston, Kansas City and Philadelphia with a circulation of approximately 450,000 copies and an estimated readership of 1.3 million. The digital component is distributed nationally, through a vast social media strategy, and across a network of top news sites and partner outlets. To explore the digital version of the campaign, click here.
Tony and Emmy award-winner Kristin Chenoweth graces the cover of the print publication. Through an exclusive interview on the interior, the star opens up about her mother's battle with breast cancer and stresses the importance of early detection and screening. "Statistics tell us that is we have early detection there is a better chance of survival," Chenoweth explains. "And with breast tomosynthesis, it shows so much more and much more information is available to doctors. I had mine done and I could actually see blood vessels. So if we have this available to us, why wouldn't we do it?"
This campaign was made possible with the support of the Breast Cancer Research Foundation, National Breast Cancer Foundation, American Society of Clinical Oncology, Dr. Lillie Shockney of Johns Hopkins, IHadCancer.com, Eli Lilly and Company, Ambry Genetics, My Hope Chest, GE Healthcare, BioReference Laboratories, Solis Mammography, Provista Diagnostics and many more.
About Mediaplanet
Mediaplanet is the leading independent publisher of content-marketing campaigns covering a variety of topics and industries. We turn consumer interest into action by providing readers with motivational editorial, pairing it with relevant advertisers and distributing it within top newspapers and online platforms around the world.
Press Contact:
Kim Betrus
kim.betrus(at)mediaplanet.com
(646) 922-1412