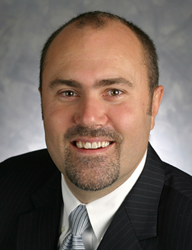 Parsippany, NJ (PRWEB) December 02, 2015
Dialogic, a global networking software and infrastructure solution provider, announced today that Christian Primeau has joined Dialogic as the Chief Operating Officer. This is a new position in the company.
Christian has over 20 years of industry experience, much of it in executive roles with major service providers and network equipment providers.
After spending a decade with Sun Microsystems in increasingly responsible positions, Chris joined Bell Canada as General Manager of Infrastructure Services. He subsequently held the roles of Vice President of Client Service Delivery, and Vice President of Sales with Bell Canada. He then took on the role of President and Chief Operating Officer of iWeb Technologies, a leading provider in cloud solutions.
"Christian's experience in leading companies in the telecommunications and cloud will help accelerate our growth and provide the leadership needed for operational excellence as a leading supplier of high quality software and cloud-based communications solutions," said Bill Crank, President and CEO of Dialogic.
"I am very excited to join Dialogic," Christian commented. "Dialogic has a long history of delivering world-class solutions to mobile operators and other service providers. The industry is in transformation, and I'm confident Dialogic has those solutions and applications ready for providers looking to deliver profitable solutions in the cloud, and ones that are NFV-ready. It is my pleasure to be joining an executive team that has a tremendous history and experience in our markets, and I'm looking forward to contributing to the growth and success of Dialogic."
Bill Crank, Dialogic President and CEO added, "We are pleased to welcome an experienced executive of Christian's caliber to the team as we continue to evolve our strategy and company."
About Dialogic
Dialogic inspires the world's leading service providers and application developers to elevate the performance of media-rich communications across the most advanced networks. 48 of the world's top 50 mobile operators and nearly 3,000 application developers rely on Dialogic to redefine the possible and exceed user expectations.
Follow us on Twitter @Dialogic, and visit http://www.dialogic.com and the Dialogic Blog for the latest news, and industry insight.
Dialogic is a registered trademark of Dialogic Corporation or an affiliate or subsidiary thereof ("Dialogic"). Other trademarks mentioned and/or marked herein belong to their respective owners
Contact information:
Dialogic
Tim Moynihan
VP Marketing
+1 973 967 5001
timothy.moynihan(at)dialogic(dot)com