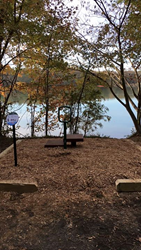 This is just one of many steps towards a healthier Chesapeake. -Kevin Kaul, Parks Manager, City of Chesapeake
Chesapeake, VA (PRWEB) December 03, 2015
PlayCore, the leading company in play and recreation research, programming, and products, recently awarded its Fitness National Demonstration Site™ Award to a brand new outdoor fitness park in Chesapeake, VA.
Oakgrove Lake Fitness Park, located at 409 Byron Street, features a cluster arrangement of fitness equipment to encourage the elements of a well-rounded workout, including cardio, muscle, core, and balance/flexibility.
Aligned with PlayCore's publication for best practices, Outdoor Adult Fitness Park™: Best Practices for Promoting Community Health by Increasing Physical Activity, the site highlights the benefits of outdoor exercise. "Exercising outdoors provides all the physical benefits of indoor exercise (blood flow, improved cardiovascular health, improved strength, flexibility, endurance, etc.) and can also provide important exposure to vitamin D, unlike indoor exercise."
"The National Demonstration Site™ designation is given to parks that align with the four identified areas of a well-rounded workout, involve the community in planning, actively market the space, and agree to participate in future data gathering. We are excited to be working closely with so many communities to advance health and recreation opportunities with this initiative," said Anne-Marie Spencer, PlayCore's Corporate VP of Marketing.
Designated parks receive certification, become part of a national registry, and are actively promoted to inspire other communities to advocate for the benefits of outdoor fitness parks and healthy lifestyles. "This is just one of many steps towards a healthier Chesapeake," added Kevin Kaul, Parks manager for the City of Chesapeake, VA.
The new site will be listed on the National Fitness Park locater at http://fitness.playcore.com/. To receive a copy of Outdoor Fitness Parks: Best Practices for Promoting Community Health by Increasing Physical Activity, send a request to info(at)playcore(dot)com.
About PlayCore: PlayCore helps build stronger communities around the world by advancing play through research, education, and partnerships. The company infuses this learning into its complete family of brands. PlayCore combines best in class planning and education programs with the most comprehensive array of recreation products available to create play solutions that match the unique needs of each community they serve. Learn more at http://www.playcore.com