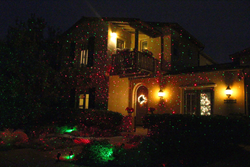 (PRWEB) December 07, 2015
Homes can be transformed beautifully and easily — and in just minutes — with the newly launched colors of the BlissLights. BlissLights is a new revolutionary alternative to the current tangled cables and costly lightbulbs of holiday lights.
The newly released BlissLights COLOR offers the laser firefly effect in Green, Red, Blue and Purple plus a built-in LED with 16 Colors. BlissLights is also the only company that offers a COLOR Purple. Add a regal mood to any event, wall or feature. The purple lighting will definitely make homes stand out from the rest.
BlissLights is the highest quality laser in today's market and is easy and safe. Save time — no more ladders or fuss — and money from buying hundreds of bulbs. The easy-to-set-up projector casts thousands of light points over a 50 ft. X 50 ft. area to instantly create an alluring environment. The floor mount allows for easier indoor use and comes with a ground stake that is perfect for an outdoor presentation of spirit.
BlissLights has been featured on HGTV, NBC, Fox News, the Hallmark Movie Channel, Time Magazine and the Washington Post to name just a few media outlets.
BlissLights COLOR Red brings a festive feel of the highly sought-after feelings of Christmas and cheer. Shine green with BlissLights COLOR Green behind Christmas trees to take festivities up several notches. BlissLights COLOR Blue will shine this season by creating snow, water features or a blue starry-night.
Guests, neighbors and passersby will be impressed with the eye-catching display of elegant lighting. Lights can stay up even past the holidays and used throughout the year for any occasion, to add some celebratory brilliance. For more information, check out: http://www.BlissLights.com
About BlissLights
BlissLights, Inc., is an artistic lighting company founded in 2006 after inventing, engineering, and patenting a unique multiphase diffractive holographic optics and light projection technology. Using the latest technologies developed for special lighting, BlissLights creates unique products that mesmerize and Wow. The company's patented technology, originally developed for theme parks, has been redesigned to be easy to use, energy efficient, and affordable for your home. BlissLights brings forth a new lighting experience that creates a new standard in the indoor and outdoor lighting industries. For more information, visit http://www.blisslights.com.