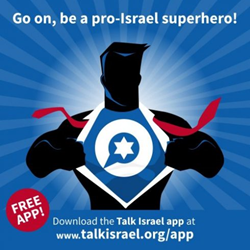 "This tool will allow the pro-Israel community to advocate on social media faster and smarter."
Los Angeles (PRWEB) December 02, 2015
This week, the Israeli-American Council (IAC) announced the public launch of Talk Israel, a game-changing mobile application that aggregates pro-Israel content from dozens of sources and provides users with a personalized stream to read and share. It will allow advocates to broaden their reach and measure their impact in new ways. More than a dozen pro-Israel organizations have already begun partnering with Talk Israel to include their content on the app, with more expected to sign on in the coming months.
"Talk Israel is a platform for collaboration designed to bring the entire pro-Israel community together," said Adam Milstein, President of the Adam and Gila Milstein Family Foundation, and the National Chairman of the IAC, which provided the funding and staff support for bringing Talk Israel to market. "To put it simply, this tool will allow the pro-Israel community to advocate on social media faster and smarter."
Created as a non-profit initiative by the Israeli-American Council, Talk Israel was developed by Dr. Amir Give'on, a former NASA-JPL scientist, Daphna Wegner, a former DreamWorks Animation programmer, and Gadi Rouache, an award-winning creative director.
"Talk Israel harnesses the extraordinary power of technology to determine over time what type of pro-Israel content appeals to each individual user, using that understanding to deliver the stories that they are most likely to share," said Dr. Give'on.
Talk Israel aggregates pro-Israel content from dozens of sources using Rich Site Summary (RSS) feeds and pro-Israel organizations' social media channels. Content is analyzed and broken down into approximately 50 components, including its subject matter, tone, and form.
The system measures users' level of engagement with each piece of content – for instance, whether they shared an article or read it in its entirety. Over time, it creates an individual user preferences profile that allows it to populate the Talk Israel feed with articles most likely to appeal to each user. The application's unique analytics system will empower organizations to understand what content is most popular – and whether their message has reached new audiences.
It's now available for free, and with no ads on iPhones and Android based phones. Learn more at http://talkisrael.org/
About the IAC: The mission of the Israeli-American Council (IAC) is to build an engaged and united Israeli-American community that strengthens our next generations, the American Jewish community and the State of Israel. Learn more at http://www.israeliamerican.org