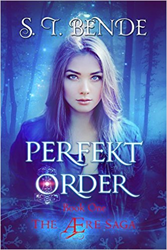 Bende takes classic bits of Norse mythology and throws in original elements to create her own tasty Nordic blend....
Charleston, SC (PRWEB) December 04, 2015
S.T. Bende is the successful author of The Elsker Saga, which was featured in USA TODAY in September 2013. Before finding domestic bliss in suburbia, S.T. Bende lived in Europe. Her love of Scandinavian culture and a very patient Norwegian teacher inspired the books of The Elsker Saga and the Ære Saga. She hopes her characters will make readers smile, and she dreams of skiing on Jotunheim and Hoth.
Releasing on December 8th on all major e-book platforms, Bende brings us Perfekt Order.
About the book:
All's fair when you're in love with War.
For seventeen-year-old Mia Ahlström, a world ruled by order is the only world she allows. A lifetime of chore charts, to-do lists and study schedules have helped earn her a spot at Redwood State University's engineering program. And while her five-year plan includes finding her very own happily-evah-aftah, years at an all-girls boarding school have left her feeling woefully unprepared for keg parties and co-ed extracurricular activities.
So, nothing surprises her more than catching the eye of Tyr Fredriksen at her first college party. The imposing Swede is arrogantly charming, stubbornly overprotective, and runs hot-and-cold in ways that defy reason...until Mia learns that she's fallen for the Norse God of War, an immortal battle deity hiding on Midgard (Earth) to protect a valuable Asgardian treasure from a feral enemy. With a price on his head, Tyr brings more than a little excitement to Mia's rigidly-controlled life. Choosing Tyr may be the biggest distraction—or the greatest adventure—she's ever had.
Perfekt Control (The Ære Saga Book 2) releases on February 9th on all major e-book platforms and is available for pre-order.
Find out more about S.T. Bende on her website.