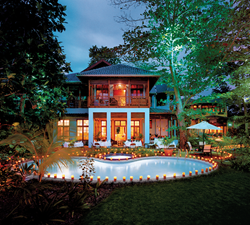 We created Idle Awhile to meet the needs of guests who wanted a smaller, more intimate experience in Negril
Negril, Jamaica (PRWEB) December 03, 2015
For decades, singles and couples have swarmed to Negril's resorts to enjoy the authentic charms of Jamaica's "quiet side." As Negril's popularity and repeat visitation increases, so has the demand for private, luxury villas among affluent travelers seeking an alternative to the traditional resort experience. To meet the explosive demand for private villas, Idle Awhile, a collection of three boutique properties in Negril, has announced the opening of Idle Awhile Villas on Negril's legendary Seven Mile Beach.
Owned and managed by the renowned Issa family, founders of Couples Resorts, Idle Awhile Villas are now the only five-star villa resort on Seven Mile Beach, offering an unforgettable vacation experience for weddings, family/milestone events or simply a private sanctuary away from Negril's larger resorts.
Secluded on a private stretch of Negril's spectacular beach, Idle Awhile's six new fully-staffed Villas provide a long list of amenities, including: a butler, personal chef and dedicated housekeeper, fully-stocked kitchens, on-call concierge, private Jacuzzis, swimming pools.
"We created Idle Awhile to meet the needs of guests who wanted a smaller, more intimate experience in Negril," said Lee Issa, owner of Idle Awhile and Couples Resorts. "We feel that Idle Awhile, with it's three distinct boutique properties, compliments the Couples brand by taking you on a journey beyond the all-inclusives."
VIP access to sister properties:
Guests of Idle Awhile Villas also enjoy private transport and access to the sister properties of The Idle Awhile Collection: Idle Awhile Beach and Idle Awhile Cliffs.
Idle Awhile Beach beckons beach lovers with its beach-chic vibe, gracious staff and collection of breezy guest rooms and suites.
The Cliffs, secluded and tranquil on Negril's legendary West End, rejuvenates mind, body and soul with its authentic Jamaican cuisine, freshwater swimming pool and cliff-side villas and suites. Additionally, Villa guests are also entitled to complimentary access to the nearby Couples Swept Away 10-acre fitness complex, where they can play tennis, racquetball and squash, enjoy a full menu of exercise classes and a fully equipped gym, pools, aerobics, yoga, an outdoor jogging track, steam rooms, saunas, jacuzzi, and a basketball court.
For information and reservations, visit http://www.idleawhile.com or call 876-957-3302.