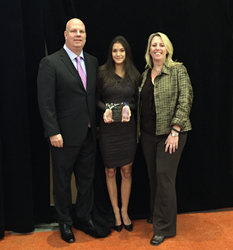 I have worked with many in the field over the last few decades and Josie ranks among one of the sharpest, most driven professionals who is clearly focused on client results.
(PRWEB) December 02, 2015
Fallston Group Communications Strategist Josie Hankey was recently named 2015 New Professional of the Year by the Public Relations Society of America – Maryland Chapter for her efforts and achievements as a rising public relations professional.
Hankey received the award at PRSA-MD's annual Best in Maryland gala at the Hilton Baltimore on Dec. 1, where public relations and communications professionals from across the state gathered to celebrate the year's best public relations campaigns, tactics and practitioners. PRSA-MD's New Professional of the Year award distinguishes a public relations professional with less than three years of experience for his or her understanding and application of public relations principles and communications objectives. The West Michigan Chapter of PRSA selected Hankey from a large pool of applicants in a majority vote.
"We are thrilled Josie was recognized among many and awarded this extremely high industry honor," said Fallston Group Founder and Chief Executive Rob Weinhold. "I have worked with many in the field over the last few decades and Josie ranks among one of the sharpest, most driven professionals who is clearly focused on client results. Her unique style and ability to immerse herself passionately within each client organization distinguishes her within the industry. The award is well deserved."
A member of the crisis management and communications firm since 2013, Hankey joined Fallston Group as an intern and progressed to oversee the firm's portfolio of strategic communication and media clients over two and a half years. As communications strategist, she works closely with clients to develop and execute strategic media relations and marketing communications plans that support overarching business goals. Hankey has secured more than $2 million in local and national media coverage including placements in The Baltimore Sun, The Washington Post, Boston Globe, Baltimore Business Journal, and on NBC Nightly News, Fox Business Network and all four major broadcast affiliates in Baltimore.
"I am honored to receive this recognition and must thank not only PRSA, but my team at Fallston Group for supporting my growth and empowering me to achieve this level of success for the firm and our clients," said Hankey. "This is just the beginning of what I hope is a prosperous career in public relations."
Please direct all media and interview requests for Fallston Group to Josie Hankey at 410-420-2001 or by email at josie.hankey@fallstongroup.com.
About Fallston Group
Fallston Group is a highly trusted executive advisory firm that guides organizations in the critical areas of leadership, strategy and communications. Many clients refer to Fallston Group as their CRO – Chief Reputation Officer. Fallston Group's core service verticals include (1) Crisis and Issue Management, (2) Strategic Communications and Media, (3) Safety and Security, and (4) Executive Training. Team members provide a blend of both executive and operational services while working shoulder to shoulder with leadership teams to achieve their unique goals. To learn more, visit http://www.fallstongroup.com.
About PRSA-MD
Formed in 1961, PRSA-MD brings together local leaders in public relations and communications from all practice areas (individual practitioners, businesses, nonprofits, agencies and government). With an organizational vision to unify, strengthen and advance the profession, PRSA-MD helps build value and demand for public relations and communications. The organization is the hub for local PR and communications pros to make contacts, gain recognition for work through awards programs, and sharpen skills by keeping abreast of emerging trends or through volunteer opportunities with the Chapter.