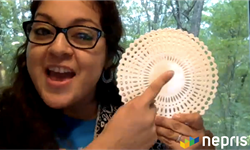 Teachers can sign up for free to include their class in this live virtual Nepris session on December 8.
DALLAS (PRWEB) December 03, 2015
What is the difference between natural gas produced from the earth and biogas produced from waste? On December 8, middle and high school teachers wishing to explore this topic with their students can sign up at Nepris.com to bring an energy expert virtually into their classroom for an interactive discussion. Click to Tweet.
This web-based session, hosted by a natural gas expert Lynn Lyon, is offered free to teachers through Nepris. Nepris is a cloud-based social platform where teachers and industry professionals connect and collaborate through virtual, interactive sessions and show students science, technology, engineering, the Arts and math applied in the real world.
Go to Nepris.com to sign up with a free account. Select industry offered sessions and select "Alternative Fuel with Natural Gas." Teachers may also view any archived Nepris session from hundreds of professionals covering STEM topics from measurement in fashion design, to careers in medicine, to crime scene investigation, or from topics in the Arts like drama and mini Lego movies.
Who: Nepris session with Lynn Lyon, President, EnergyConnects (EnergyConnects.org)
Topic: Alternative Fuel with Natural Gas (Fossil or Renewable BioGas)
When: December 8, 2015 10:00 a.m. CST (8:00 a.m. PST/11:00 a.m. EST)
About Nepris
Dallas-based Nepris brings STEM to life (and now STEAM, which adds the Arts to science, technology, engineering and mathematics) by connecting professionals with teachers and classrooms who need speakers, project mentors or evaluators for interactive, cloud-based sessions. Nepris makes this a turn-key process: identifying and registering professionals and teachers, matching professionals' skills to the teachers' needs, advising on best practices for classroom interaction, hosting the interactive sessions and tracking all the data in a social platform. See Nepris in action at Nepris.com/webinar or sign-up as a teacher or STEM professional at Nepris.com.