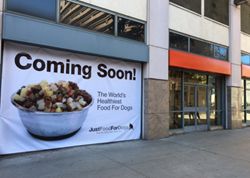 "We make dogs live longer, happier, healthier lives through the food they eat." - Dr. Oscar Chavez, BVetMed MRCVS MBA, Chief Medical Officer
(PRWEB) December 08, 2015
When Shawn Buckley, founder of JustFoodForDogs® (justfoodfordogs.com), found out what was in the "premium" kibble he was feeding his dog Simon, his team developed healthy dog food recipes and homemade diets and he vowed to never feed his dog food in a bag or a can again. Ongoing pet food recalls (FDA Website) have led other pet parents to conclude the same.
Buckley started simply by making homemade food for his dog using ingredients purchased at his local market. Soon thereafter, his friends noticed the changes in Simon's energy level and improvements in health, and the demand for his healthy food began. He assembled a team of canine nutrition experts and created "the world's first dog kitchen".
Less than 5 years after he founded his company, the team are opening their 6th location in Downtown Los Angeles. Located at 333 South Spring Street, JFFD has partnered with the area's premiere veterinary hospital, DTLAVets, to bring healthy, whole food nutrition the Southland's city-dwelling dogs.
The way the team at JFFD approaches canine nutrition is much the same as society does for people; they use human-quality meats and vegetables. The big difference is the recipes are nutritionally balanced for dogs. JFFD recipes were researched at a major university in Southern California and the results showed boosted immune systems in the dogs that participated in the feeding trials. Pet parents rave about the improvements in their pet's weight management, coat health, overall happiness and well-being.
The concept is simple, says partner and Veterinarian, Dr. Oscar Chavez, "We make dogs live longer, happier, healthier lives through the food they eat." Their line of fourteen diets range from six daily diets for healthy dogs to eight veterinary prescription diets for dogs with medical conditions such as kidney failure, liver disease and pancreatitis. Additionally, the veterinary team at JFFD will create custom diets for dogs with specific needs, not covered by the line of fourteen diets. Fresh samples are available as well as a free consultation with one of their experienced staff and quite often, one of their two staff veterinarians.
JustFoodForDogs makes their food fresh daily in their kitchens in Newport beach, West Hollywood, Sherman Oaks and Manhattan Beach. They also have smaller retail locations (pantries) in Capistrano Beach and now in Downtown Los Angeles. Customers are invited to bring their dogs into all locations to see and learn exactly how the food is made.
JFFD Founder, Shawn Buckley believes that there will come a day when the concept of feeding your dog highly processed kibble will be a relic of the past. "We think our success is do to the fact that thousands, if not millions, are seeking an alternative to canned or bagged dog food, made from ingredients that contain deplorable ingredients and chemicals that the FDA says are unsafe for human consumption. The fact that clients drive from all over the Southland from as far away as San Diego and Malibu, to ordering shipments coast to coast is testament to this."
So grab your canine companions and head to 333 South Spring Street in Downtown Los Angeles Saturday December 12th from 10am – 5pm as they will be having an all-day Grand Opening. Gift bags, Nutritional Specialists and Vets providing "canine body condition scoring" and facts about the importance of canine nutrition, pet adoptions, hospital tours and refreshments, free food and samples will be available.