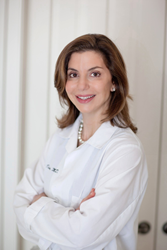 "Ultherapy is a huge game-changer in the world of skin tightening procedures because it achieves a smooth, tighter appearance without the need for incisions or injections," said Dr. Isaac
Washington, DC (PRWEB) December 04, 2015
Just in time for the holiday season, Dr. Melda Isaac and her exceptional team of cosmetic dermatologists at MI-Skin Dermatology Center are celebrating Neck-Vember. Whether due to age or environmental factors, loose skin around the neck can make a person appear to have a turkey neck. Fortunately, with the cutting edge, non-surgical Ultherapy device, Dr. Isaac can help those suffering from turkey neck get the tighter, refreshed skin they need to look rejuvenated for family get-togethers this year.
"We treat a lot of men and women at MI-Skin who struggle with getting rid of their turkey neck," said Dr. Melda Isaac, renowned dermatologist and founder of MI-Skin Dermatology. "Ultherapy is a huge game-changer in the world of skin tightening procedures because it achieves a smooth, tighter appearance without the need for incisions or injections."
Ultherapy delivers ultrasound waves to the deeper layers of skin tissue to trigger the body's natural collagen and elastin production. As we age, our bodies slowly begin producing less and less collagen and elastin, which is what causes loose, sagging skin. By getting the body to replenish these substances, the skin can become fuller and tighter again.
"Ultherapy is an ideal cosmetic procedure before the holidays because it is non-invasive and requires no downtime," added Dr. Isaac. "It's easy to just come in to our office for a treatment and go back to your daily activities about an hour later with minimal side effects. No one can tell you've had work done by the time you're ready for holiday get-togethers, but they'll notice you look better."
This Neck-Vember, don't wait to get stunning results from a series of Ultherapy sessions with Dr. Isaac and her expert team. When undergoing any dermatologic procedure, it is crucial to only work with an experienced and highly trained dermatologist in order to get safe, natural results. When combined with microneedling treatments that use platelet rich growth factors, patients can have both skin tightening and skin texture treatments combined in one dermatology session.
"Ultherapy is the only FDA-approved treatment for treating loose skin around the chin and neck," said Dr. Isaac. "Once a person has what's known as a turkey neck, it can be incredibly difficult to lose it through diet and exercise, so we are thrilled to be able to offer this treatment at our offices."
Dr. Melda Isaac is a board-certified dermatologist located in Washington, DC. Her practice, MI-Skin Dermatology Center, is a comprehensive skin care practice which offers the latest and most advanced state-of-the-art technology to improve the skin's appearance. Dr. Isaac obtained her medical degree from Penn State University, and completed her dermatology residency at George Washington University. She is an active member of the American Academy of Dermatology, the American Society for Dermatologic Surgery, the Women's Dermatologic Society, the American Society for Laser Medicine and Surgery, and the Washington, DC Dermatologic Society.
You can find out more about Dr. Isaac and MI-Skin Dermatology Center at http://www.mi-skin.com.