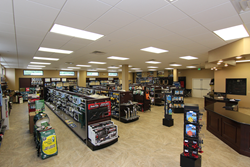 There will be free giveaways, a huge parts and accessories sale, seminars, personal tours and the opportunity to make the deal of a lifetime!
Ft. Myers, FL (PRWEB) December 04, 2015
North Trail RV Center in Ft. Myers is kicking off the grand opening of their newly expanded, 70 acre facility at 4601 Lexington Avenue with seminars and guest appearances from leading RV manufacturers December 1st-14th. Top executives and owners such as Matt Miller, President of Newmar Corp., Bob Tiffin of Tiffin Motorhomes, as well as representatives from Thor Motor Coach, Airstream, Jayco, Dynamax, Renegade RV, Winnebago, Freightliner Custom Chassis, Spartan, Dometic and more will all be here to celebrate this huge milestone with North Trail guests and staff. There will be free giveaways, a huge parts and accessories sale, seminars, personal tours and the opportunity to make the deal of a lifetime!
"We're giving current and past guests and local RV resort guests a first glimpse at everything and also the chance to meet some of the leaders of these top RV manufacturers." says Joe Jackson, sales manager at North Trail.
"North Trail RV Center has been Newmar's largest dealer for over 10 years now and we are thrilled to come down to Florida to celebrate with everyone, meet new friends and just have a good time!", says Ken Williamson, Regional Sales Manager of Newmar Corporation. "The dealership is amazing. The detail that went into the design and planning as well as state of the art features like the Motorhome Express Lube, all-wheel alignment rack, luxury guest lounge, plus their huge RV parts and accessories store are things that make their guests' RV experiences second to none. We look forward to seeing what they have planned for their next phase which is a beautiful, new 21,000 square foot sales facility."
Speaking of their next phase, Alan Erp, co-owner of North Trail states, "Although the process has been cumbersome, the results have been phenomenal. We are ready to get started on our sales center as soon as possible and we are feverishly looking for and hiring top notch people to add to our already amazing staff. The excitement and support of our local community has been invaluable as well." emphasized Erp. "With over 80 RV parks in the area, several being high-end motorcoach resorts, Southwest Florida has really grown into the RV mecca of the country. People from all over the world flock here to not only enjoy their RV's, they come to North Trail RV Center for the largest selection of motorhomes in South Florida and also our award winning service."
The festivities kick off on December 1st and run through the 14th. There will be multiple seminars, presentations, exciting RV parts and accessories giveaways, discounts up to 20% off all 'parts' items in stock, special 'event only' factory sales incentives featuring meet and greets with the RV manufacturers and the opportunity for guests to save thousands off their next RV. Freightliner Custom Chassis representatives will be presenting their "Fireside Chat" daily. The 'chat' is a maintenance, service and safety seminar designed specifically for RV's. Freightliner's revolutionary V-Ride Chassis will also be here on display. Spartan Chassis will have representatives here as well on Dec. 8th and 9th from 10am -12pm and from 1pm - 3pm on both days. Also, come and visit the "Dometic Motorhome" on Thursday, December 10th.
For more information please visit us at: http://www.northtrailrv.com
About North Trail RV Center
With coast to coast locations, North Trail RV Center is South Florida's largest RV dealer. Featuring over 100 million dollars of inventory in stock, North Trail RV Center features the best RV manufacturers in the country such as Newmar, Tiffin Motorhomes, Thor Motor Coach, Dynamax, Renegade RV, Airstream, Winnebago, Jayco, Keystone RV, Pleasure Way and Heartland RV. For over 27 years, the locally-owned, family business has grown to employ over 200 people in 3 locations throughout South Florida. With major facility expansion plans in the works and underway for next year in Ft. Myers, North Trail RV Center will continue to be South Florida's number one, full-service RV dealer for many years to come. 'Like' us on Facebook at: https://www.facebook.com/northtrailrv
Media contact:
Tim Lowry
Marketing Manager
1-888-819-9973
###