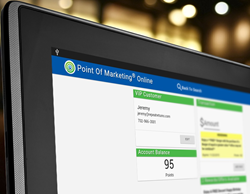 Point Of Marketing® effectively creates a new category in the POS space
Las Vegas, NV (PRWEB) December 03, 2015
Repeat Returns, a leading provider of marketing automation in the restaurant and pizzeria space announced today the official launch of its new Point Of Marketing® API.
"With the explosion of mobile, social, email, data analytics and cloud services, more and more merchants are demanding custom 3rd party marketing integrations from their Point Of Sale providers," says Kamron Karington, Repeat Returns CEO.
Even though most POS companies strive to meet these needs and enhance their system's functionality, ongoing development challenges such as the new chip (EMV) support, moving to mobile, and cloud-based solutions take priority. Additionally, most 3rd party add-ons contribute to an ever growing spider web of APIs and integrations, consuming valuable development time and setting the stage for future failure points as APIs are modified, extended and even abandoned.
Since the evolution of the POS into a marketing tool is well underway, Karington felt the time was right to solve this "endless API development" burden with an industry standard Point Of Marketing® API which allows a single integration point for any API.
"That way, merchants can choose the marketing solution that's right for them, even if it's not us" Karington added.
Jeremy Miller, Chief Strategy Officer of Repeat Returns, says "Because the Point Of Marketing® API is dynamic and extendable it takes the burden off POS companies by creating a one-stop solution between POS companies and all 3rd party integrations."
Barry Brownhill, co-founder of Arrow POS says "Point Of Marketing® effectively creates a new category in the POS space. It's easy for shop owners to choose a marketing-ready POS with built in automation over something with limited capabilities."
The Point Of Marketing® API's detailed documentation can be found at http://www.pointofmarketing.net and includes an SDK page for those looking to take advantage of this new solution.
"It's all about letting POS companies stay focused on what they do best: creating an amazing POS," says Miller.
About Repeat Returns
Repeat Returns provides data-driven, automated marketing to retail, restaurant and pizzeria owners worldwide. For more information on Repeat Returns and their all-in-one marketing solution visit: http://www.repeatreturns.com.