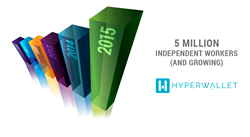 San Francisco, CA (PRWEB) December 03, 2015
Hyperwallet, a leading payout platform of the new economy, announces it has achieved a significant milestone with payments to more than five million independent workers on behalf of its corporate clients. This rapid growth is projected to increase steadily as the company continues to roll out new platform features, including integrated business support tools, custom loyalty programs, and a full suite of payout APIs.
53 million Americans are now freelancing, according to a study commissioned by Freelancers Union in partnership with Upwork in 2014. A study conducted by software firm Intuit also projects that more than 40 percent of the American workforce will be contractual by 2020, propelled in large part by the freelancer-driven on-demand economy. Over recent years, Hyperwallet has been optimizing its platform to meet the specialized needs of companies that depend on paying independent workers and earners across the globe in a manner that is quick, secure and delights the payee.
"This is a tremendous achievement for Hyperwallet, but it's just the beginning," said Brent Warrington, CEO of Hyperwallet. "We're providing over five million independent workers with the greatest choice of fast and flexible payout methods, which is a result of our commitment to a best-in-class user experience. As the on-demand economy continues to grow, our payee universe will surge, and we'll continue to augment our platform with the tools and services that our clients and their workforces need to be successful."
About Hyperwallet
Hyperwallet is a payment platform that empowers businesses to pay the world's independent workforce and provide workers with freedom, independence, and control of their careers. Hyperwallet's user-friendly payments platform and global settlement network enables businesses to distribute funds to 170+ countries in more than 150 currencies. Hyperwallet's range of flexible payout options includes local bank deposits, international wire transfers, branded prepaid and virtual cards, custom checks, cash pick-up services, and pay to existing credit and debit card capabilities. With offices in San Francisco and Vancouver, you can learn more about Hyperwallet at http://www.hyperwallet.com.