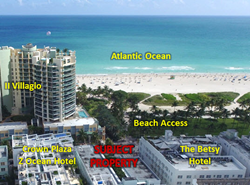 There are very few sites with this potential remaining in South Beach and its ideal location will certainly generate a number of potential bidders, said Lamar Fisher, President and CEO of Fisher Auction Company
Miami Beach, Florida (PRWEB) December 04, 2015
Fisher Auction Company's Executive Vice President, Francis D. Santos and Cushman & Wakefield's Senior Director, Rosendo Caviero is heading up the team.
The property currently consists of a .321± acre site with a 45-unit, 22,000± SF multifamily building and additional commercial space built in 1960. It has 96± feet of frontage on world famous Ocean Drive and is across from Lummus Park on South Beach with direct beach access. The property's neighbor to the north is the Crown Plaza Z Ocean Hotel and it is diagonally across from II Villagio.
The property has a minimum starting bid of $26 million. To participate in this exclusive auction, qualifying sealed bids are due on Friday, January 15, 2016. The top conforming bids will then participate in a live auction event.
"The live auction will be held Wednesday, January 20th at 11AM at the Victor Hotel, 1144 Ocean Drive, Miami Beach, FL 33139. Only the top conforming bidders will qualify for the live auction event," explained Santos. "We have the bid package with terms and instructions available on our site at http://www.fisherauction.com."
"There are very few sites with this potential remaining in South Beach and its ideal location will certainly generate a number of potential bidders," said Lamar Fisher, President and CEO of Fisher Auction Company.
"The property is zoned Mixed Use Entertainment (MXE) and its location makes it ideal for a five-star luxury condominium project or boutique hotel," said Caveiro. "This is a once-in-a-lifetime chance to purchase ocean view Miami Beach real estate in one of the world's most desirable, chic and popular markets."
Numerous property tours are available; to date we have scheduled Tuesdays and Fridays; December 4, 15, 18 and 29, January 12 and 15 from 10 a.m. to 12 noon. Please call Francis Santos directly at 754.220.4116 if you need a private tour.
Fisher Auction Company has previously handled numerous high-profile auctions including the former Versace Mansion just down the street, numerous private islands and multi-million dollar mansions of business executives, celebrities and professional athletes.