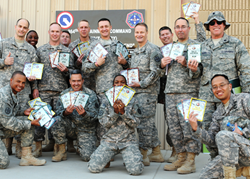 These brave individuals will be able to enjoy wild salmon no matter where they're at.
Anacortes, WA (PRWEB) December 03, 2015
Mike Mondello, President & CEO of SeaBear Wild Salmon is pleased to announce that the company's recent Veterans Day drive for their ongoing Treat the Troops program has resulted in nearly 1,000 pouches of ready-to-eat salmon being shipped to active duty troops and military units. With packages arriving between Thanksgiving and Christmas, service members will enjoy a healthy, nutritious, and tasty meal for the holidays.
SeaBear, which has specialized in smoked salmon since 1957, started its year-round Treat the Troops program in 2013. For every pouch of the company's shelf-stable salmon that customers purchase to donate, SeaBear matches each unit 100% and handles the logistics of sending the salmon to service members or military units. Since its inception, the program has resulted in over 3,200 pouches going to US troops. "We appreciate that members of our country's Armed Services are often serving on our behalf in some pretty harsh conditions," said Mondello. "These brave individuals will be able to enjoy a wonderful meal of Wild Salmon from the Pacific Northwest no matter where they're at – and those who have received our salmon have been so appreciative. Our customers have embraced this program, with donations nearly doubling since last year."
SeaBear's Ready-to-Eat Wild Salmon is fully cooked and sealed in an easy open pouch, with no refrigeration required until it is opened. Containing only boneless wild salmon and a touch of sea salt, the ready-to-eat salmon is an excellent source of healthy protein to keep our troops fueled as they serve our country.
SeaBear is a privately owned company, which started producing Northwest style smoked salmon in 1957 in Anacortes, Washington. The company now serves customers around the world via their website at http://www.SeaBear.com. SeaBear's flagship smoked salmon products are sealed in their famous "Gold Seal Pouch", which preserves the salmon naturally. With no refrigeration required until opened, the product will stay good for at least 4 years. In recent years, SeaBear has expanded its product offering to fresh and wild seafood, Lox style smoked salmon, ready-to-cook appetizers, gift baskets, and more.
For more information on SeaBear Wild Salmon or to schedule an interview, contact Mike Mondello at 206-226-3715 or at mikem(at)seabear.com.