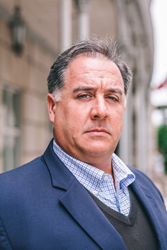 Dallas, Texas (PRWEB) December 07, 2015
Dominion Harbor CEO David Pridham has been tapped by Forbes to write a monthly "IP at Work" column for their online publication read by 38 million business readers every month. The first-ever column in a mainstream business publication devoted to intellectual property, Mr. Pridham's "IP at Work" column will offer practical advice on how to use intellectual property (IP) in the daily operations of the enterprise to enhance both short-term and long-term corporate performance.
Experts say that intellectual assets comprise roughly 80% of the market value of public companies today. So each month, Mr. Pridham will show business leaders how to use IP to hedge their risk in product development, increase market share and margins, defend that market share from rivals, cement joint ventures and strategic partnerships, drive more effective M&A strategy, lower the cost of capital, secure financing on more favorable terms, and even develop new sources of revenue — all of which lead to greater market success and shareholder return.
His December 7 inaugural column, "Intellectual Property (IP): The Secret Sauce of Great Products," reveals how the U.S. patent database — the greatest library of technical knowledge in the world — can be used to build more successful products with higher margins at less cost.
Mr. Pridham is considered one of "the world's top intellectual property strategists" by the IP industry's leading journal, Intellectual Asset Magazine. The magazine called Pridham "a global leader in the field of patent value optimization [who] licenses intellectual property, provides strategic IP consulting, facilitates IP financing, and procures intellectual property for emerging companies — maximizing clients' return on their investment in innovation."
As chairman and CEO of the IP advisory and optimization firm Dominion Harbor Group, Mr. Pridham advises corporate clients on how to protect, leverage, and monetize their intellectual property portfolios for strategic and financial advantage. He also founded the Monument Bank of Intellectual Property, the world's first "IP bank" for startups that seeds promising young companies with third-party intellectual property to help buttress their market position, facilitate venture funding, and increase the likelihood of an IPO or other strategic market success.
About Dominion Harbor Group, LLC:
Dominion Harbor Group (DHG) is one of the most respected and experienced patent advisory and optimization firms in the U.S., with decades of experience among its seasoned team of licensing, legal, technical, engineering and financial professionals. The firm manages, helps protect, and leverages intellectual property portfolios, maximizing their value and helping owners and investors achieve appropriate returns from their investment in innovation. DHG's partner is the Monument Bank of Intellectual Property, the world's first "IP Bank" for startups.
For more information, please contact:
Sallie Laning at 214-414-1164 or email Sallie(at)dominionharbor.com.