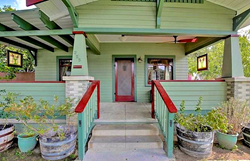 "It has been wonderful to see it receive the attention from the Register it and the homeowners deserve for being a wonderful example of the Craftsman era," Terry LeClair, Senior VP, Sales First Team Real Estate
Tustin, CA (PRWEB) December 03, 2015
Built in 1914 and lovingly cared for since, the Craftsman bungalow at 255 South A Street in Tustin, CA was featured in the Orange County Register as having been listed for sale by First Team Real Estate and its agents Markus and Heidi Brown.
"This home was built to generously represent the new era dawning in on what was then a rural farming community," says Terry LeClair, Senior Vice President of Sales, First Team Real Estate. "It has been wonderful to see it receive the attention from the Register it and the homeowners deserve for being a wonderful example of the Craftsman era."
Surrounded in downtown Tustin by other great homes of the era, the bungalow has been lovingly kept for generations. The report in the Orange County Register detailing the listing at $725,000 can be found at http://www.ocregister.com/articles/september-692043-sold-home.html.
"The homeowners have put a great deal of work in making sure that the home is historically accurate yet modern," explains Markus Brown. "The generous lot, quiet street, and incredible atmosphere of the truly historic downtown Tustin area make this a great long-term value."
Tustin has been highly recognized over the last two decades for working to restore and maintain its original and historic downtown which dates back to the era when all of the surrounding land was used for orchards and to grow lima beans.
"Orange County has been carefully planned to maintain many downtowns or to restore ones that may have been lost, yet this neighborhood still has almost all of its original homes in wonderful condition," says Markus Brown. "The coverage in the Orange County Register really captured the spirit of the house and the property. Thank you to them for their great work."
ABOUT FIRST TEAM REAL ESTATE
Growing from a single office in Huntington Beach, CA in 1976, First Team Real Estate is now Southern California's largest and most trusted private real estate agency with offices across California. In 2011, 2012, 2013, 2014 and now 2015, First Team has been recognized as Best Real Estate Company by the annual Orange County Register survey of 100,000 Southern California households. We can be reached at (888) 236-1943 and at firstteam.com.