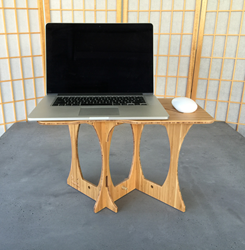 Boston, MA (PRWEB) December 04, 2015
Dr. Luke Leafgren, Harvard dean and Arabic translator, launched a new standing desk just days ago. The new StandStand Mouse can be pre-ordered at a discount on Kickstarter through January 7th. Last year Luke raised $118,000 during a campaign for the original StandStand. The success of 2014 led to a year of steady sales for the company, but Luke's favorite work involved creating the design for new products. According to Luke, "Our customers look for a standing desk because they know about the health risks of sitting. They choose StandStand because it is combines a beautiful form with smooth function."
The idea for the new design came from original StandStand Kickstarter backers. According to Luke's business partner, Paul Peterson, "The Kickstarter platform is incredibly open and transparent: You are launching a business live on the internet for everyone to see. In turn I think that makes customers comfortable sharing their ideas. The support we received was immensely beneficial." StandStand realized after a backer survey that "a lot of people loathe the trackpad." This starting point led Luke to experiment with an aesthetic inspired by the columns in the Johnson Wax building in Racine, WI. "What I find so interesting is that Frank Lloyd Wright's columns interact differently from every angle of observation," Luke commented.
The beauty of elegant design has always appealed to Luke, but StandStand, the business, started as an idea for a solution to a problem. "I wanted to stand more," Luke stated simply. Luke found the research about the effects of sitting to be alarming: "It became very clear to me that standing for more hours every day would decrease my chances for diabetes, heart disease, and cancer."
StandStand will continue to be manufactured in America by Paul and his skilled team at Rob's Custom Cabinetry, the high-end residential cabinetry company that manufactures the standing desks. Luke and Paul both believe in supporting their hometown community, plus they recognize the business benefits of manufacturing locally. "Yes, labor is more expensive here than overseas," Paul stated, "but having control over the manufacturing process every step of the way is priceless in terms of achieving a consistently high quality."
StandStand is the portable standing desk that folds down to the size of a laptop. Purchase now at http://www.standstand.com.