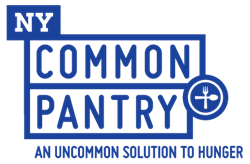 This program will help NYCP provide nutritious food options to seniors and address the crisis of food insecurity so many of them face.
New York, NY (PRWEB) December 04, 2015
In 2014, 10% of seniors living in New York City were food insecure. (New York City Coalition Against Hunger). Furthermore, nearly 20% of the city's seniors live below the federal poverty level (American Community Survey).
In order to better address the food and nutrition needs of this crucial part of our population, New York Common Pantry (NYCP) has been entered a four year contract with the New York State Department of Health for the Commodity Supplemental Food Program (CSFP) to establish a new program to distribute food provided by the United States Department of Agriculture and to provide nutrition instruction to low-income senior citizens in four of the city's boroughs. When fully operational, the program is expected to reach 13,540 seniors each month. Services may expand into other boroughs in the next four years. NYCP is poised to embark on the most significant step to date in its historic expansion into the Bronx. The renewable contract will provide $6,130,093 over its initial four years.
CSFP is a federally funded program that offers free, nutritious foods to seniors on a monthly basis. NYCP is one of the three agencies statewide contracted to provide healthy food to seniors through the program. NYCP will enhance the CSFP provisions with fresh food from its Choice Pantry, which provides healthy, nutritious grocery packages to low-income New Yorkers. NYCP has reached out to community partners representing over 70 to expand food and nutrition services for low-income seniors living in Manhattan, Queens, Brooklyn and the Bronx through the new program. NYCP will be reaching seniors by delivering food to community providers that serve or house seniors. NYCP will open a pair of satellite sites in the South Bronx to deliver both food and nutrition education services to seniors. One site will enroll seniors into the program and the other site will function as a warehouse space.
"The funding to institute the Commodity Supplemental Food Program will help NYCP provide nutritious food options to seniors and address the crisis of food insecurity so many of them face. For example, of the seniors living in the Bronx, 25% are living below the poverty line. Through the funding received for CSFP, we will be able to go into the community to provide nourishing food and nutrition instruction to these seniors," states Stephen Grimaldi, Executive Director of New York Common Pantry.
The majority of participating seniors will be served at over 70 partner sites at which seniors already congregate, including senior centers, housing facilities, and community organizations, to be located in all boroughs but Staten Island when the program is fully operational. These sites will be served by four vans bringing food from a central warehouse, each following its own route on a monthly schedule. Each will carry a team of two workers who will conduct enrollments and nutrition assessment as well as facilitating distribution of food packages to individual seniors.
The program will be based at two sites to opened by NYCP in the south Bronx. A Participant Enrollment site, to be located at 423 E. 138th Street in the Mott Haven section of the Bronx, is conveniently located down the block from the Brook Avenue stop on the 6 train as well as several bus lines. The site will provide space for seniors living nearby to enroll and receive food packages and nutrition assessments, as well as office and classroom space. A Warehouse site, located at 420 Hunt's Point Avenue in the Hunt's Point section of the Bronx and accessible to area highways will allow NYCP to accept food shipped from NY State facilities as well as directly from the USDA and its own Choice Pantry suppliers, and to transfer it to our delivery vans for distribution at the community partner sites around the city.
New York Common Pantry, one of the largest community-based food pantries in New York State, has three decades of experience working with people in low income communities. The agency provides comprehensive services to help people in need, including case management that assists visitors to access financial and other resources, in addition to healthy groceries, hot meals, services for the homeless, and extensive education on wellness and nutrition.
####
New York Common Pantry is dedicated to reducing hunger throughout New York City while promoting dignity and self-sufficiency. Programs including Choice Pantry, Help 365, Project Dignity, Live Healthy! and Hot Meals provide food and resources to New Yorkers in need, last year including residents of 170 zip codes.
New York Common Pantry was recently chosen as the Gold Prize winner in the 2015 New York Community Trust Nonprofit Excellence Awards.