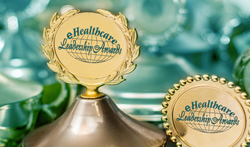 Valencia, CA (PRWEB) December 03, 2015
Multiple websites that were designed by Scorpion Healthcare were named winners of the 2015 eHealthcare Leadership Awards at the Healthcare Internet Conference (HCIC) in Orlando, Florida. On Nov. 11, 2015, the awards were given to Scorpion clients for five different websites — four in the Best Site Design category, and one in the Best Overall Internet Site category. The full list of winners is available on the website of Strategic Health Care Communications, the provider of the awards.
The eHealthcare Leadership Awards recognize the top websites and digital communications of various types of healthcare organizations. According to Strategic Health Care Communications, the winners were selected from almost 1,000 entries.
Here are the winning Scorpion Healthcare clients and their awards:
Best Site Design — Platinum
Longmont United Hospital: luhcares.org
Hospital 200-399 beds
Best Site Design — Gold
Good Samaritan Hospital (San Jose): goodsamsanjose.com
Hospital 400+ beds
Best Site Design — Gold
WOMANOLOGY + RESTOREHIM by Hoag: womanology.net
Medical Practice/Clinic/Outpatient Facility
Best Site Design — Silver
Hoag Orthopedic Institute: orthopedichospital.com
Medical Practice/Clinic/Outpatient Facility
Best Overall Internet Site — Silver
The Plastic Surgery Center: wallplasticsurgery.com
Medical Practice/Clinic/Outpatient Facility
The awards were judged by 113 individuals who used numerous standards of excellence to evaluate each entry, according to Strategic Health Care Communications. The awards were given to a total of about 240 healthcare organizations in 15 award categories.
This is not the first year that Scorpion Healthcare websites have been recognized with eHealthcare Leadership Awards. In 2013 and 2014, websites designed by Scorpion won eHealthcare Leadership Awards in the categories of Best Mobile Communications, Best Site Design, and Best Overall Internet Site, and some even received distinction awards. Scorpion Healthcare sites have also been honored with many other awards, including WebAwards, Mobile WebAwards, W3 Awards, Communicator Awards, and Internet Advertising Competition Awards.
Scorpion Healthcare provides hospitals and other healthcare organizations with a wide range of Internet marketing services. These services include website design, search engine optimization (SEO) and content development, assistance with targeted web marketing campaigns, a streamlined healthcare web marketing and management platform, and much more. Scorpion partners with hospitals and other healthcare providers to enhance their online presence and give them a greater competitive edge within their industry. For more information about Scorpion Healthcare, visit http://www.scorpionhealthcare.com.
About Scorpion Healthcare
Scorpion Healthcare delivers award-winning, patient-focused websites and couples them with effective online marketing programs to attract the right patients. The healthcare Internet marketing company provides a single, integrated solution to help clients get more patients in their local markets from the Internet.