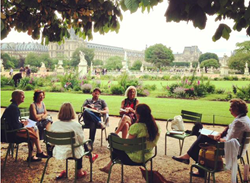 This is Hemingway's Paris, the setting for 'A Moveable Feast'; we can't let that be taken from us.
Denver, Colorado (PRWEB) December 03, 2015
The Left Bank Writers Retreat in Paris, an annual small-group writing workshop and literary tourism experience, will continue as planned in June 2016, announced founder and director Darla Worden. The retreat, now in its seventh year, is held in the heart of Paris, visiting sites related to the famous expatriate writers who called Paris in the 1920s home, including Ernest Hemingway and his iconic memoir "A Moveable Feast."
"In January 2015, we had the terrible tragedy of Charlie Hebdo and that didn't stop writers from coming to Paris for our June retreat last summer," says Worden. "In the aftermath of the most recent attacks, the people of Paris want us to continue to visit. This is Hemingway's Paris, the setting for 'A Moveable Feast'; we can't let that be taken from us. As long as writers are willing to come, the Left Bank Writers Retreat will continue to show them Hemingway's Paris. We can help by spending our literary dollars there."
The six-day Left Bank Writers Retreat writing workshop will be held June 19-25, 2016. In addition to providing writing instruction for a maximum of eight writers, the retreat retraces Hemingway's footsteps during his Paris days, as well as visiting favorite literary haunts of additional writers of the time, including Gertrude Stein, Ezra Pound and F. Scott Fitzgerald. Tuition for the six-day writing workshop is $1,999 ($1,799 for writers who register before December 31, 2015) and includes all daily expenses during the retreat from 9 a.m. to 5 p.m. (breakfast, lunch, admissions fees and transportation around the city, as well as writing instruction). Writers are responsible for their own airfare and lodging.
For the first time, the Left Bank Writers Retreat is also making the tuition deposit refundable. "In the past, because we are such a small group, if someone cancelled, it was often hard to fill their place at the last minute, so the deposit for the retreat was nonrefundable," Worden explains. "This year, because of the circumstances, the retreat will refund all deposits to anyone who cancels before April 1. And if events happen that require the retreat to be postponed for reasons beyond our control, we will refund 100 percent of all funds received."
Open to all levels of writers, the Left Bank Writers Retreat in Paris includes morning writing sessions, coaching and one-on-one time with the instructor for a maximum of eight writers, as well as lunch each day, admission to museums and area sights and a picnic on the banks of the Seine. Recommended by the Los Angeles Times as a chance to follow in Hemingway's footsteps and cure writer's block, the workshop includes a literary tourism experience that treats attending writers to many of the sights featured in the Woody Allen movie "Midnight in Paris" as well as some newly opened and off-the-beaten-track literary landmarks.
The Left Bank Writers Retreat is named for the now-famous writers who lived on Paris's Left Bank during the 1920s, writing and congregating in the city's cafes and bars to share ideas. During the June retreat, participants experiment with many of the Left Bank writers' techniques. Applications for the June 2016 retreat and registration information are online at http://www.leftbankwritersworkshop.com/register.
About the Left Bank Writers Retreat:
Left Bank Writers Retreat founder Darla Worden is a writer who lives in Jackson, Wyo., Denver, Colo., and Paris. Worden has written widely for magazines and authored several books. She writes the popular blog Frenchophile and is currently working on a book about Hemingway's Paris. Now in its seventh year, the Left Bank Writers Retreat takes place on the historic Île Saint-Louis in the heart of Paris. For additional information, visit http://www.leftbankwriters.com.
Contact: Darla Worden, WordenGroup Public Relations, darla(at)wordenpr(dot)com, 303.777.7667