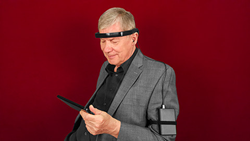 "The BRAINtellect 2 (B-2) is breakthrough technology that helps the brain deeply relax and rebalance itself for relief from chronic stress, more efficient and refreshing sleep, significantly increased performance and overall well-being,"
Scottsdale, Arizona (PRWEB) December 04, 2015
Positive Customer Impact
Over 100,000+ people have been helped through our patented process called Brainwave Optimization® designed to help people in their overall well-being. Nearly 400 clients have already pre-ordered the BRAINtellect 2 (B-2) Wearable Headband, which is now being offered through a Kickstarter campaign to fund U.S. based large scale production and worldwide marketing.
BRAINtellect 2 (B-2) Wearable Headband Availability
BRAINtellect 2 (B-2) Wearable Headband will begin shipping at the end of January 2016. The B-2 has evolved over 15 years from a large body of core technology proven to balance the brain. In reality, there is no other hardware/software technology in the world as advanced as what has been developed and patented by Brain State Technologies®.
"Our technology's effectiveness has been clinically proven in University-based studies and featured in many peer-reviewed and popular publications and media," said Dr. Sung Lee, Director of Research.
BRAINtellect 2 (B-2) Wearable Headband is available for immediate pre-order at: https://www.kickstarter.com/projects/632221988/braintellect-2
Founded in 2004, Brain State Technologies is the worldwide leader in Brainwave Optimization®. Brain State Technologies supports an international network of providers with over 180 locations in 20 countries.
###
Brain State Technologies and BRAINtellect 2 (B-2) Wearable Headband are either registered trademarks or trademarks of Brain State Technologies in the United States and/or other countries.
The names of actual companies and products mentioned herein may be the trademarks of their respective owners.
For more information, press only:
Lee Gerdes or Suzanne McCain
480-588-6840
Lee(dot)Gerdes(at)brainstatetech(dot)com
Suzanne(dot)Mccain(at)brainstatetech(dot)com
For more information on BRAINtellect 2 (B-2) Wearable Headband:
http://www.braintellect.com
http://www.brainwaveoptimization.com
http://www.brainstatetech.com