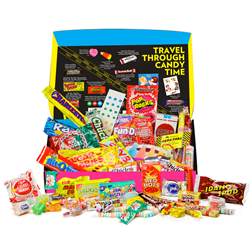 Deerfield, FL (PRWEB) December 10, 2015
Trying to find the perfect gift for your coworkers, boss, or clients can be mind boggling. No matter their personality, style, or taste, everyone loves candy! Give the gift of sugary delight this holiday season and bring pure joy and happiness into the workplace.
Specialty candy and gift retailer, IT'SUGAR, has the best business gifts you never thought of this holiday season.
You Are Awesome! Gift Box – Straight forward and totally awesome, this gift box shows you care without having to say a thing. The box is filled with four takeout containers including Rainbow Sour Belts, Mini Gummy Bear, Sour Gummy Worms and Red Swedish Fish that actually say, "You Are Awesome" Retails for $39.99.
Giant Gift Basket –Sweeten up anyone's life with this gift basket stocked with over 2lbs of candy including a Nerds box, Rice Krispies Treats, Airheads and Sour Patch Kids. Not only is the basket itself giant, each item is oversized too! Retails for $49.99.
Ultimate Gift Basket – For that someone who has a major sweet tooth, this over the top gift basket is filled with 4lbs of candy. Included is a giant box of Nerds, Reese's Pieces, Jolly Ranchers, Airheads, Sour Patch Kids and a giant tub of Sweetarts. Retails for $79.99.
Nostalgic Gift Box – Travel back in time with this retro candy gift box containing over 1 ½ pounds of throwback treats: Charleston Chew, Razzles, Bit-O-Honey, Sky Bar, Candy Buttons, Boston Baked Beans, Fun Dip, Abba Zabba, Chunky, Mallo Cups, Idaho Spud, Mary Jane, Zotz, and so much more! Retails for $59.99 and $24.99 depending on size.
It's Kind Of A Big Deal Candy Party In A Box – 'Tis the season of parties and candy is always a hit. This box is filled with eight take out containers full of all time favorite candies, along with eight mini tongs for easy serving. That's enough candy for over 20 people to indulge in! Retails for $124.99.
Candy Bottles – A beautiful Italian glass bottle filled with candy, a perfect treat to keep on your desk for the midday munchies. A 24oz bottle retails for $19.99.
Popcorn Tubes – Gourmet popcorn in unique flavors like Sriracha, Fruitfetti and Chocolicious will put regular popcorn to shame. 5.5oz tube retails for $12.99.
All items are available at IT'SUGAR's over 80 stores nationwide and online at http://www.itsugar.com. For more information or samples, please contact Fox Greenberg Public Relations, 323-933-8900 x3 or laurenh(at)foxgreenberg(dot)com.
About IT'SUGAR
Founded by Jeff Rubin in 2006, this saccharine experience has become one of the largest and fastest growing specialty candy and gift retailers in the world. The IT'SUGAR Empire consists of over 80 retail locations in US hotspots such as New York, Las Vegas, Los Angeles, San Francisco, Miami, Scottsdale, San Diego and Palm Beach, in addition to chic international destinations such as Panama, Venezuela and Grand Cayman. With aggressive growth plans, IT'SUGAR sees a future where everyone has access to the pure joy that comes from indulging in a movement where life doesn't have rules – the IT'SUGAR movement.