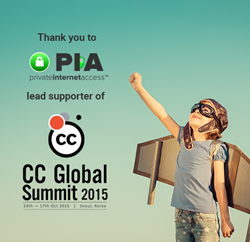 Let's celebrate a world where sharing is becoming the narrative and the norm.
(PRWEB) December 03, 2015
Private Internet Access, a personal VPN provider, recently sponsored the Creative Commons Global Summit, held October 14th – 17th 2015 in Seoul, Korea, helping the event go off without a hitch. In an attempt to grow Creative Commons' movement, a host of speakers and professionals from the worldwide shared-information camp gathered together this past October.
Creative Commons' main vision is to drive a new era of development, growth and productivity for the world by attaining full, unrestricted access to research and education via the internet. Inspired by the Free Software Movement it became their mission to develop, support and steward customizable copyrights and technical infrastructure to maximize digital creativity, sharing and innovation. Creative Commons believes that the Internet is a crucial part of this mission. However, as powerful as it may be, in many countries the Internet is limited, which inhibits the spread of knowledge and the growth of culture.
Private Internet Access is a company with a similar goal in mind – allowing people to utilize the internet to its full capability without restriction. As Rick Falkvinge said during his opening remarks, "Let's celebrate a world where sharing is becoming the narrative and the norm." PIA uses innovative technologies that allows people to access the internet via secure, encrypted tunnels to cloud data from prying eyes. Private Internet Access has made contributions to Creative Commons and supports them in achieving their goals.
Though their copyrights do help to allow constructive sharing, Creative Commons knows that this alone does not solve the problems that lie within legal systems. Annual meetings and the bi-annual Global Summit are held throughout the world to discuss the local and worldwide difficulties with policy and to find solutions to these problems. Private Internet Access sees this as such an important event that they became the Lead Sponsor for the 2015 Summit this past October. The conference aims to bring together leaders of the industry and politicians to address the issues of internet growth and restriction. This creates a constructive forum for discussion and helps create positive solutions. 2015 speakers included Ryan Merkley, Creative Commons CEO, Lila Tretikov, Executive Director at Wikimedia, Rick Falkvinge, the well-known Pirate Party founder and proponent for internet freedoms, as well as many other industry intellectuals and executives.
Creative Commons Korea has a youtube channel with many videos from the conference and for more information about the summit, go to: summit.creativecommons.org.