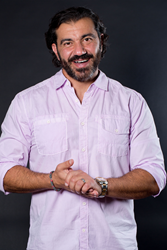 Get off the bleachers and get on the field
Irvine, Calif (PRWEB) December 02, 2015
Bedros Keuilian, creator of PTPower and founder of the popular Fit Body Boot Camp franchise, presents the 2016 Fitness Business Summit taking place March 18-20, 2016 in Irvine, California. This is the 10th event in the series and will feature coaching talks from industry experts as well as a networking event and expo room.
Next year's event is going to be the largest one yet in celebration of the 10th anniversary. For the first time there will be an expo room where sponsors can see new gear, software and technology and create relationships with suppliers. There will also be a networking cocktail party with live music that will be open to all attendees.
Fitness Business Summit 2016 will focus on helping fitness professionals, coaches, trainers and boot camp owners with learning marketing techniques, gaining referrals and succeeding in the industry. The event will welcome anyone interested in increasing profits and reaching more clients, including niche market businesses and professionals new to the industry. Top fitness and business experts are dedicated to this weekend of fitness industry education.
"For the first time ever we're going to have breakout sessions where we're going to bring experts to teach you on the most cutting edge training, nutrition and fitness marketing strategies that you can use to blow up your business and take it to the next level," explains Bedros.
Speakers at the event will include Bedros Keuilian, Dr. John Beradi of Precision Nutrition, Josh Carter of Carter Fitness, Craig Ballantyne of Turbulence Training and many more knowledgeable industry leaders. With this being the 10th event, all the stops are being pulled to ensure that this will be the biggest and best Fitness Business Summit yet.
Through these experts and professionals, attendees will learn how to help more people in their community and gain more confidence in their brands. The summit will also be an opportunity for fitness industry entrepreneurs and business owners to network with each other.
"Get off the bleachers and get on the field," urges Bedros. "You've got to live a life of abundance and optimism."
The summit sells out quickly every year so interested professionals are encouraged to purchase badges as soon as possible. There will be a limited time bonus available as well as a risk-free satisfaction guarantee.
Fitness Business Summit takes place March 18-20, 2016 in Irvine, California. Attendees are encouraged to wear fitness casual and comfortable clothing during the main event and bring cocktail party attire for the the networking party. To learn more about the event, visit the official website: http://fitnessbusinesssummit.com/
About PTPower:
To find out more about Bedros Keuilian, his company PTPower.com and the fitness boot camp franchise, Fit Body Boot Camp, contact Bedros Keuilian at (800) 261-0208. Alternatively, you may use the contact form at http://ptpower.com/contact-me/ or send an email to Bedros Keuilian at support(at)keuilian(dot)com.