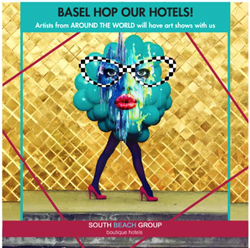 Satellite Basel hosts free authentic art shows that promises a good time for all visitors, explains Nathan Lieberman, owner of South Beach Group.
Miami Beach, Florida (PRWEB) December 03, 2015
With Art Basel right around the corner and many events popping around Miami, South Beach Group brings an easier way to go "Baseling". This is the first annual Miami Beach Satellite Basel that lets guests hotel hop from eight different properties chockfull of incredible art shows, entertainment performances, fashion shows, lite bites and a specialty drink aptly named "Satellite"—all free admission.
"Satellite Basel was created with guests in mind. They can ride on our E-cars and hop from hotel to hotel checking out all the art and music events, eat some great food at Fung Ku and Maxine's. It's also an opportunity for locals and artists from all over to use our hotels' space and show their work. The best part is that these are free events," explains Alan Liebermann, owner of South Beach Group.
Guests will watch installations by high-profile artist TMNK aka "Nobody" and dance to an exciting live performance by Reggaeton artists Villa Electronika, Chavo, and Samir, jam out to cool rock band Ovrhol and a street wear show by Wynwood-inspired The Dendoe Collective with tattoo action by Empire Ink at The Catalina Hotel, a never-before-done runway show. All of their liquor sales will be donated to Miami Music Project. Scorpions' former bassist Ralph Rieckermann and Whitesnake's and Frank Zappa's Grammy winner guitar hero Steve Vai will also showcase their extra talents with custom artwork on SDR Guitars designed by Shawn D. Rose.
Riviera South Beach Hotel hosts first annual CUBAsel by Latin Grammy winner Jorge Moreno, featuring Cuban artists Ernesto Maranje, ABSTRK, and Luis Berros. Video1Collective's MIA | Miami is Art is hosted by Queen of Wynwood, Myra Wexler bringing the public a series of unique sensational events.
Hotel Chelsea is next on the list—flying from NYC with "Arrival" Art Gala x Art Dept. hosted by artist Lädy Millard with an accomplished line-up and DJ Ben Bronfman hitting the decks. North of the Basel tent pole, Hotel Croydon hosts Le Beau Maroc luxurious fashion show and Smile Design Gallery by celebrity dentist, Dr. Lee Gause with far-out daily pop art events and music performance by ILOVEMakonnen hosted by Beyonce's stylist and fashion icon Ty Hunter for a "Ty-Lite Experience".
"There is so much to look forward to with Satellite Basel. Hip-hop star Makonnen will perform and pop-up galleries by new and veteran high-profile artists. Celeste "Naughty Yogini" McQueen will have outrageous art performance with a 13ft disco ball gag. BK the Artist comes back with his thrilling work. Visitors will remember these art shows and have a guaranteed overall great experience," says Michell Diaz, PR Producer for South Beach Group.
Art Basel and all other art fairs are different from the pioneering concept that is Satellite Basel. The South Beach Group hotels are connoisseurs of art deco and are elated to participate in one the most exciting times of the year in Miami Beach.
[South Beach Group is owned by powerhouse father & son duo, Alan and Nathan Lieberman. The company has been open since 2002 with their first property, Hotel Shelley. They now have 17 properties including hotels and restaurants in their realm]
For Press & Media Inquiries:
Michell Diaz, Producer of PR & Marketing for South Beach Group
Email: michell.diaz(at)southbeachgroup(dot)com
Office: (305) 535 8284 ext. 3052