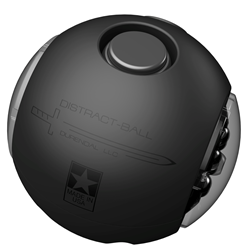 "We had the opportunity to use the device in a combine training with the USDA. The scenario involved explosive material and poisonous gases. The device worked very well!" Officer E Miller #5252 Pocatello PD
Scottsdale, Arizona (PRWEB) December 04, 2015
Entering a dark environment is widely recognized as one of the most dangerous acts in law enforcement tactical situations.
Before using a flashlight and risk becoming a target; before throwing a flash-bang grenade and risk harming innocent individuals or igniting combustible gasses or chemicals; arm the newly introduced, non-explosive DISTRACT-BALL® and throw inside. The two 1,040 Lumens LED CREE lights combined with a 110+ dB siren-like sound will confuse and temporarily blind insiders giving enough time to assess the situation and make critical decisions.
The DISTRACT-BALL® diverts attention for an important few seconds in order to give law enforcement the distinct tactical advantage of controlling the situation by leaving opposing forces confused in its wake.
Durendal LLC presents the DISTRACT-BALL®, a state-of-the-art, rechargeable distraction device that utilizes a combination of high powered CREE LED lights and intense sound to distract and confuse hostile forces. The uses for this groundbreaking system are countless, from combat room clearing, chemical plant protection, to school and residential safety and other civilian protection.
Because the DISTRACT-BALL® does not use combustion or explosive events to generate illumination and sound effects, it can be safely used in any enclosed environments to create effective distraction regardless of possible presence of flammable or combustive gasses/chemicals, thus, eliminating the risks of causing damaging and costly explosions.
Test and evaluation sessions have been conducted with numerous departments across the US with very positive results.
In today's environment, scrutiny of law enforcement tactics has become more intense. With officers and departments struggling to balance appropriate use of force with public perception the introduction of the DISTRACT-BALL® does not come at a better time.
The DISTRACT-BALL® has a shell made with the toughest and hardest Thermoplastic-Vulcanite available with two high impact resistant lenses and is water resistant, rechargeable and re-usable.
Durendal, LLC has developed this cutting edge unit to contain 2 high powered CREE lights, each located on either side and capable of emitting up to 1040 lumens, and a speaker that emits over 110 decibels at a distance of 1 meter: the combination of high sound level and high intensity lights creates a disorienting effect aimed at distracting targeted forces in enclosed environments. Other variations of the DISTRACT-BALL® allow for constant illumination for room clearing and hands-free operations within any given situation.
CREE LED lights represent a dramatic advancement in LED lighting: they are so powerful that even momentary exposure can have a dramatic impact on the human eye, leaving those exposed significantly hindered for an extended period of time, depending on the duration and level of exposure.
Product Specifications:

Light Intensity: Two CREE Lights, max. 1040 Lumens Each
Sound Intensity: 110+ dB max (at 1m)
Dimensions: 2.75 in. (70mm) Dia.
Weight: 6.6 oz. (188g)
To learn more about the DISTRACT-BALL®, or to book a T&E session, contact Paolo Vianson at (480) 467.7057 or email, pvianson(at)durendal-llc.com, or visit the website at http://www.durendal-llc.com.