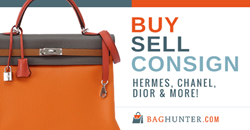 a pre-loved Hermes Birkin or Kelly bag is a solid investment considering the steady consistent increases in value over the last 30+ years
Beverly Hills, CA (PRWEB) December 03, 2015
Online luxury handbag retailer, Baghunter, has reported the findings of their latest research into the value and popularity of rare Hermes handbags. Hermes handbags are not only known as a coveted luxury item, but also as a sound investment opportunity due to the consistent rise in value of these bags as opposed to other luxury items such as diamonds and gold. Research conducted by Baghunter shows that this holiday season, Hermes handbags are set to overtake diamonds as the most desired luxury item for women and the most sought after investment for collectors.
"In the last 30 years diamond prices have seen their ups and downs", said Baghunter CEO, Evelyn Fox, "As have gold, silver, stock markets, real estate and just about any investment with the exception of Hermes bags and in particular the Birkin and Kelly which have seen their values increase five-fold over the last 30 years!"
The increase in value of Hermes handbags is set to continue at an even faster pace, thanks in part to the rise of these bags as a status symbol among high profile women such as Kim Kardashian and NeNe Leakes who are rarely seen in public without their Hermes Birkin or Kelly bags. Other contributing factors to the steady and predictable rise in value of Hermes bags is that they come with a lifetime warranty, are repairable for life, handcrafted by an expert craftsman, and only a limited number are made each year. In particular, the limited number of bags crafted each year means only very special clients are offered these bags at the Hermes boutique, but even some of these Hermes clients report waiting years before getting a call about a new Birkin or Kelly bag.
"The exclusivity of the Birkin and Kelly bags by Hermes, especially the increased scarcity of exotic skin Hermes bags and many more Hermes collectors entering the fray, has eliminated any stigma attached to purchasing 'pre-loved' bags," said Evelyn, "Owning a pre-loved, rare Hermes Birkin or Kelly is as special as purchasing a new one directly from the brand. In fact a pre-loved Hermes Birkin or Kelly bag is a solid investment considering the steady consistent increases in value over the last 30+ years."
Although the number of Hermes bag collectors and investors are increasing fast, the production of Birkin and Kelly bags remains the same. This has led to demand far outweighing supply and is steadily driving the value of Hermes bags higher than they have ever been before. For example, a Hermes Birkin bag recently consigned by Baghunter was purchased in 1980 for $2,000 and is now worth more than $10,000. In 2025, it is projected that the same bag will exceed a value of $20,000!
"The value of Hermes handbags is expected to keep rising." said Evelyn, "The average Hermes Birkin bag is worth five times more today than it was 35 years ago and the trend is expected to continue. Based on historical data it is estimated that in the next 35 years some Hermes bags will increase in value by up to 10 times more than today's market prices."