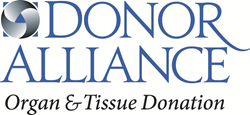 Denver, CO (PRWEB) December 03, 2015
Donor Alliance, the federally designated not-for-profit organization that facilitates organ and tissue donation in Colorado and most of Wyoming, today announced that it has received the Peak Performance Award from Rocky Mountain Performance Excellence (RMPEx), a nonprofit helping organizations improve performance and achieve results.
RMPEx is a program dedicated to enabling organizations to evolve and succeed through the effective application of Baldrige Criteria for Performance Excellence. RMPEx is the regional chapter of the prestigious national Baldrige Performance Excellence Program, established by Congress and President Ronald Reagan in 1987. It is the only presidential-level award for quality in the U.S. Each year, RMPEx formally recognizes role-model applicants from the Rocky Mountain region for performance excellence achievements with four levels of awards.
This year, Donor Alliance was honored with the highest level of excellence, which is based on the Baldrige Excellence Framework used to determine recipients of the Baldrige National Quality Award. Previously, only five organizations had been recognized with a Peak Award since RMPEx began in 2001. Donor Alliance's achievement of the RMPEx Peak Performance Award makes the organization eligible to apply for national recognition.
Peak Performance Awards are presented to those applicants that demonstrate role-model results, plus systematic and mature approaches, effective deployment, process learning, and process integration in their response to the criteria questions.
"We are thrilled to accept this award and plan to continue striving for operational and organizational success, which is crucial to the lifesaving work that we do," said Sue Dunn, president and CEO of Donor Alliance. "We are mission-driven, and our employees and relationships with partners are at the center of all our interactions, helping us to achieve this great accomplishment."
RMPEx is funded solely by contributions and operational revenues and is one of more than 30 similar state programs that exist throughout the U.S. The approach is based on the Baldrige criteria for Performance Excellence framework, a proven program that brings innovation and results to any organization. More information about RMPEx is available at: http://rmpex.org.
About Donor Alliance
Donor Alliance is a not-for-profit organization dedicated to saving lives through organ and tissue donation and transplantation. As the organ procurement organization and accredited tissue bank for Colorado and most of Wyoming, Donor Alliance serves more than 5.8 million residents and more than 100 hospitals. The organization adheres to medical, regulatory and ethical standards: respectfully working with the families of organ and tissue donors, maintaining partnerships with hospitals, educating residents on the life-saving benefits of donation and inspiring them to sign up on the state's donor registry. Colorado and Wyoming boast some of the highest rates of donor registration in the country, which directly translates to more lives saved through organ and tissue transplantation.
Donor Alliance is one of 58 federally designated organizations of its kind in the United States, and is also an American Association of Tissue Banks (AATB) accredited tissue bank. For more information, please visit DonorAlliance.org or the Donate Life Colorado or Donate Life Wyoming Facebook pages.