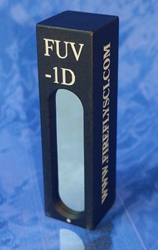 Brooklyn NY (PRWEB) December 04, 2015
FireflySci Inc. is a world-class manufacturer and distributor of spectrophotometer cuvettes and NIST traceable calibration standards. With over 10 years of hands-on experience using spectrophotometers, FireflySci continues to deliver powerful new tools for the spectroscopy industry. Their latest product that just hit the market in December 2015 is a UV calibration tool that has left scientists speechless.
When using a spectrophotometer, one must keep in mind the fragile nature of these machines. If the machine is not in 100% working order the machine must be declared defective and is not allowed to be used for testing. What is worse is when routine checks are not performed and a defective machine is used for testing. FireflySci has done a great job in educating scientists on proper UV calibration techniques and providing them with the proper tools for this sensitive work.
When calibrating a UV-VIS spectrophotometer, an often overlooked test is for stray light. Stray light is light that is transmitted from other wavelengths other than the one being tested. In the past, the only way to test UV calibration for stray light was with dangerous chemicals housed in a quartz cuvette that could easily be broken. These dangerous chemicals need special training to be cleaned up and can be a real headache when researchers are trying to meet deadlines. Luckily, thanks to FireflySci, a scientist will never have to touch another liquid stray light standard again.
FireflySci is the first company in the world to release a solid glass based spectrophotometer calibration standard that can test for stray light. What this means is that a lab never has to worry about complicated clean up procedures and material data safety sheets, because the Firefly standard uses a solid piece of glass. This is the safest stray light standard available in the world.
The FUV Dual Series stray light standards come in a black, anodized aluminum housing. The metal housing surrounds the glass plate on all sides so if the standard is dropped it is well protected. The fear of breaking this type of robust UV calibration standard is close to zero, leaving researchers the peace of mind to carry on their work safely and without worry.
What is also amazing about the FUV Dual Series stray light standards is they don't require recalibration. Not only are liquid stray light standards dangerous, but they also require expensive yearly recalibration. The recalibration fees can easily reach in the thousands and can really crush a labs annual budget.
One FireflySci FUV Dual Series stray light filter can test for stray light at any wavelength in the 200-700 nm range. This is a huge advantage over the lackluster range of the liquid stray light filters which can only test for one calibration point.
FireflySci is ramping up production for this new stray light filter due to the increasing demand from their customers. In 2016, FireflySci plans to have their FUV Dual Series filters in many labs around the world.
Visit http://www.fireflysci.com for more information.