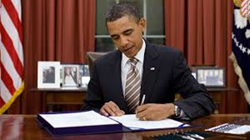 We're thrilled to share the great news with our clients nationwide, that WOTC Tax Credits have been extended for 5 years!
New York, NY (PRWEB) December 21, 2015
As a leading provider of WOTC Tax Credit Services, WOTCsoftware.com has been watching closely as the Tax Extender Bill was being debated in Congress. The good news came on Friday, as first reported by USA Today President Obama signed a huge tax and spending package into law, following congressional votes that avoided a year-end showdown over the budget and ended legislative business until lawmakers return in 2016.
Within this spending bill, are two great WOTC items to note:

WOTC was renewed retroactively through December 31, 2019 - for 5 years.
Another target group has been added - Long Term Unemployment Recipient.
This will include employees hired after 12/31/2015, that are unemployed for at least 27 weeks, and receiving unemployment compensation under State or Federal law.
Empowerment Zones were reauthorized only through 2016. Interestingly, however, the bill included a provision that expanded empowerment-zone benefits into some census tracts outside of actual zone boundaries.
Read the bill here: (For the WOTC Extension scroll to page 38)
"We're thrilled to share the great news with our clients nationwide, that WOTC Tax Credits have been extended for 5 years!" says Michael Markowitz, VP of WOTCsoftware.com, a subsidiary of TC Services USA Inc. "Our company is committed to truly helping our clients increase efficiency and cutting costs. The WOTC program enables our clients to cost-justify the hiring of employees, by helping employers claim the Tax Credits they deserve!"
Next Steps:
The Dept of Labor will issue a formal processing statement to the state WOTC processors when they can begin issuing decisions for applications with start dates beginning 1/1/2015. It is also anticipated, based on precedent, that there will be a transition relief period offered again this year, for 2015 hires. Meaning, companies that have not yet submitted 2015 WOTC Applications, can now submit them retroactively for all 2015 hires. This transition usually lasts for 60-90 Days.
About TC Services USA Inc.
TC Services USA is made up of an acclaimed team of tax professionals, technology, and accounting executives, committed to delivering the best tax credit consulting and processing to companies of all sizes. The TC Services USA organization boasts its proprietary WOTC Software that enables them to accurately determine the tax credit eligibility for new hires. Companies can sign up Free of Charge, and they don't pay anything until they receive the actual tax credits.
About WOTC Software:
For companies that prefer to process their WOTC applications online, WOTC Software has been voted the #1 Tax Credit Software. New employees can complete their Tax Credit Survey online, or via their cell phones. HR administrators can log into the software to keep track of their WOTC Applications submitted, and track the status of pending tax credits. For more information, or to get a free WOTC consult, visit WOTCsoftware.com.
"Companies that participate in the Work Opportunity Tax Credit (WOTC) Program, get thousands of dollars in Tax Credits each year!" says Michael Markowitz of TC Services USA. "We're glad that Congress and the President realize the great benefits of the WOTC Program, by extending it for a longer period of time", concludes Markowitz.