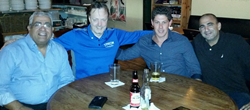 TRIC's benefits are its compact size, adaptability to a variety of job sites and the capability to set it up inside a manhole.
Alameda, CA (PRWEB) December 10, 2015
On October 12th and 13th, Pipe Bursting Manufacturer TRIC Tools hosted Meiri Technologies of Israel. Meiri Technologies is a trenchless technology company located in Tel Aviv, Israel. Meiri was one of the first companies in the Middle East to license Insituform's Cured-in Place Pipe (CIPP) technology for trenchless repair of underground pipelines. Business Development Director Guy Meiri contacted TRIC three months prior to visiting TRIC's facilities. Guy was joined by CEO Zaharia Libi and Executive Vice President Oz Ben-Shalom. Meiri Technologies was founded by Guy's father and is now a subsidiary of Milgam City Services Ltd. based in Tel Aviv, Israel. Milgam City Services was established in May 1983 as a company providing services to local authorities in the areas of sanitary collection and water. Milgam provides comprehensive services for the local municipality, both in management and operation of all sanitary sewer and water systems for municipalities. This includes complete maintenance and operations of municipal water systems.
While Meiri Technologies was in Alameda they visited two equipment owners job sites in the Bay Area that were using TRIC's equipment. TRIC's Field Trainer Jose Moreno took Mr. Libi, Mr. Meiri and Mr. Ben-Shalom to Sewer Connection's jobsite in El Sobrante, CA, where they saw TRIC's X30 pipe bursting system replace a 70 foot 4" sewer line. On the following day, they saw Bay Hawk Construction replace a 65 foot 4" sewer line with TRIC's M50 system powered by a Bobcat in Richmond, CA The four inch line traveled through three neighbors' yards. Both Sewer Connection and Bay Hawk have been using TRIC's technology for over 10 years. Bay Hawk's Ramaldo Perez showed Meiri Technologies the area where they had replaced an 8" line by setting up the M50 inside a manhole in September. The manhole for the 8" project was just a few feet from the pulling pit of the 4" project. Mr. Libi also discussed with Ramaldo how the Bay Area mandatory Sewer Replacement program incentivizes municipalities to replace underground infrastructure. In this case the 4" clay pipe had cracks and been leaking for a number of years.
Meiri's team had hoped to see the M50 pipe bursting system set up in a manhole or a see the M100 replace a 10" line while they were in the U.S. Since TRIC was unable to coordinate either of these job projects, Guy Meiri contacted TRIC users who had either used the M50 inside a Manhole or had worked with the M100 system. Guy spoke to Pipeshark's John Galligan of Philadelphia, Former Aberdeen Maryland Public Works Director Matt Lapinsky, and Omni Eye's Jim Theriault of Orlando, FL before completing the Purchase Agreement. Both John Galligan and Jim Theriault discussed different job situations in which they had used the TRIC system. Both have been using TRIC equipment for over 10 years and enjoyed sharing their experience with the M50 and M100 Hydraulic Pullers. Mr. Galligan said, "TRIC's benefits are its compact size, adaptability to a variety of job sites and the capability to set it up inside a manhole."
TRIC invented and patented the first Lateral Pipe Bursting System while simultaneously gaining national approval of HDPE pipe for its use, thus opening the market for trenchless home sewer replacement in America.
For more information about Trenchless Pipe Bursting equipment or the Trenchless Industry in general - please call 888-883-8742 or visit TRIC's website at http://www.trictrenchless.com to see how they can answer any of these questions for you.