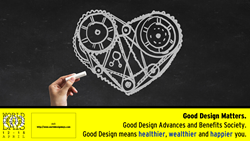 Como, Italy (PRWEB) December 03, 2015
Today, A' Design Award and Competition, in collaboration with the International Association of Designers has launched the World Design Days – Good Design Matters advertising campaign. This new social campaign focuses on highlighting and reminding the relevance of good design, arts, culture, architecture, engineering, science and technology for advancing mankind.
The 32 posters created for the advertising campaign demonstrate the importance of good design by providing examples from various design, art and culture scenarios. The interactive campaign calls designers, artists, architects, photographers and illustrators worldwide to download the "Blank" Design Matters template to express their own opinion on why Design Matters.
Onur Mustak Cobanli, president of design policy at A' Design Award and Competition said: "We are pleased to support the World Design Days and the Good Design Matters campaign. We believe this campaign is a necessary step for us to achieve our goals of creating a better future with good design. We trust that the Good Design Matters campaign will help create a global awareness and appreciation of good design."
The Design Matters advertising campaign was especially created to highlight the importance of design in our daily lives as well as to remind and re-establish the 12-15 April as the World Design Days. The first wave of the campaign has already started and will extend over several months until the end of the designated time period. The campaign will be reinforced by press and digital coverage featuring scenarios where good design makes a positive change.
About World Design Days
The World Design Days is an initiative by various design related organizations, institutions, companies and brands to establish the dates April 12 to April 15 as the World Design Days. The aim of the World Design Days is to create awareness for design in multiple demographics across the globe. World Design Days program was especially established to promote design for a better, brighter future where good designs serve mankind through improvements in the quality of life by socio-cultural, economic, and environmental innovations. Learn more at http://www.worlddesigndays.com
About IAD - International Association of Designers
The primary purpose of the IAD is to push philanthropic, social and ethical design practices. The ultimate aim of the IAD is to promote good design practices and principles worldwide in order to improve quality of life of general public from across the globe. IAD annually organizes several initiatives to help their goals. Learn more at: http://www.iaod.net
About A' Design Award & Competition
The A' Design Award and Competition is the World's largest design accolade, organized under hundred different design categories, with participation from all countries across the globe. The A' Design Award aims to create incentives for designers, artists, architects and enterprises worldwide to come up with superior products and projects that advance and benefit society. Learn more at http://www.designaward.com