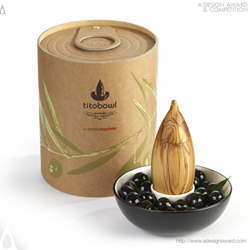 Como, Italy (PRWEB) December 03, 2015
A' Design Award and Competition is pleased to announce that the design project Titobowl by Carlos Jimenez Perez & Pilar Balsalobre has been announced as a winner of the Golden A' Design Award in Bakeware, Tableware, Drinkware and Cookware Design Competition Category.
More information on Titobowl
Carlos Jimenez Perez & Pilar Balsalobre, the creative mind behind the award winning Kitchenware work Titobowl said "Titobowl is a vessel specially designed for tasting different varieties and dressings olives with pit, although it has been adapted for tasting pitted olives and other snacks because turning the top cap of the container, it becomes a toothpick holder. Stoneware and olive tree wood turned by hand, are used for its manufacture. The design of its eco-packaging is inspired by the image of a can of olives, and it is entirely made by hand with cardboard and recycled paper. Titobowl is the second project for a line of eco-design functional, called "NATURA IMITATIS"." Learn more and download high-resolution photos at: https://competition.adesignaward.com/design.php?ID=39943
Creative Team for Titobowl
Titobowl was realized by Carlos Jiménez Pérez and Pilar Balsalobre de la Hera
The Golden A' Design Award
The Golden A' Design Award is a prestigious award given to top 3% percentile designs that has carried out an exemplary level of quality in design. Entries to the A' Design Award & Competition are peer reviewed and anonymously voted by a grand jury panel consisting of design scholars, prominent editors and design professionals. Entries are voted on predetermined evaluation criteria such as aesthetics, design quality and techniques. Award winning designs are exhibited internationally in Italy and World Design Hub. Award winners are published and featured in a hard-copy book, are given design excellence trophies and are included in World Design Rankings and are invited to join the glamorous black-tie award ceremony in Como Lake. Award winning works are further translated to all languages to create true international reach.
About A' Design Award and Competition
The A' Design Award and Competition was established to recognize, promote and highlight excellent qualifications of best designs, design concepts and design oriented products worldwide. A' Design Award and Competition is organized and awarded annually and internationally in multiple categories to reach a wide, design-oriented audience. The ultimate aim of the A' Design Accolades to create a global awareness for good design practices and principles, as well as to push designers worldwide to create superior products and projects that benefit society. To learn more about the A' Design Awards please visit: http://www.whatisadesignaward.com