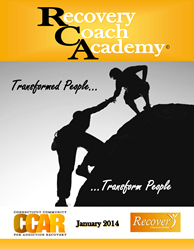 New for 2016, CCAR will add an independent online companion course for those who wish to continue their learning in ethics.
Hartford, CT (PRWEB) December 05, 2015
Fresh off his hike of the Appalachian Trail, CCAR Executive Director, Phil Valentine will co train the nationaly recognized CCAR Recovery Coach Academy (RCA) in Connecticut. Teaming with long time training partner Art Woodard, Phil will blend stories from the trail into this retreat like academy. This academy is geared towards anyone interested in promoting recovery by removing barriers and obstacles to recovery and serving as a personal guide and mentor for people seeking or already in recovery. The RCA will run five times throughout 2016. Register soon, as seats fill up quickly. Can't make it to CT? Call 1-877-676-2227 to schedule an onsite training of the RCA.
Also scheduled for 2016 is the highly sought after CCAR Ethical Considerations for Recovery Coaches. Using presentations, small group work, and role play, participants will understand what ethics are and why ethics are so important when performing Recovery Coach Services. This curriculum offers 12 CEUs. New for 2016, CCAR will add an independent online companion course for those who wish to continue their learning in ethics. This additional 4 hour course, when taken with the onsite course, will fulfill the ethical requirements needed for certification as a Peer Recovery Specialist through the International Certification and Reciprocity Consortium.
CCAR's Spirituality for Recovery Coaches is also on the 2016 calendar. A person's spirituality is often credited for helping them find recovery or staying in recovery, but for some beginning the journey, spirituality can seem a bit taboo to talk about. This two day like retreat will push participants to explore their own personal beliefs around spirituality and religion in order to help guide and mentor someone through their own recovery and spirituality healing process.
All CCAR programs have a Training of Trainer component, so seasoned trainers and facilitators can bring the curriculum back to their own state and train others in these highly sought after training programs. As a leader in recovery coaching, CCAR prides itself in building local capacity so we can continue to transform people so they can transform people, both near and far.
For more information about any of the programs listed, or for information on what it takes to host a training onsite, please visit http://www.ccar.us or contact stacy(at)ccar(dot)us
Since 1998 the Connecticut Community for Addiction Recovery (CCAR) has organized the recovery community (people in recovery, family members, friends and allies) to put a face on recovery and to provide recovery support services to help sustain recovery. CCAR envisions a world where the power, hope and healing of recovery from alcohol and other drug addiction is thoroughly understood and embraced. By promoting recovery from alcohol and other drug addiction through advocacy, education and service, CCAR strives to end discrimination surrounding addiction and recovery, open new doors and remove barriers to recovery, maintain and sustain recovery regardless of the pathway, all the while ensuring that all people in recovery, and people seeking recovery, are treated with dignity and respect.