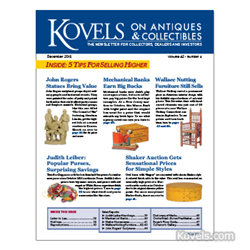 Cleveland, Ohio (PRWEB) December 04, 2015
Kovels' Antiques and Collectibles December 2015 newsletter is now available in print and online at Kovels.com. Read about Judith Leiber purses that auctioned in Dallas and are featured in a December sale report. See the unique shapes and selling prices of her whimsical crystal-covered minaudières—small evening bags without handles—including a black and white sleeping cat bag once used by Hillary Clinton that sold for $2,750. Late 19th- and early-20th-century mechanical banks were made for child's play, but collectors are paying big prices for unusual banks in the best condition. More than 170 mechanical banks were offered at auction in New Jersey, where a bank with moving roller skating figures won an astounding top bid of $120,000. Banks depicting boys playing leap frog, a mason laying bricks, and a Native American trying to keep a fish away from a jumping frog all sold for five figures and are pictured along with others in Kovels' December issue. And Kovels' newsletter takes a look at Shaker household accessories that sold in Pittsfield, Massachusetts. The Shakers are known for simple, functional designs that served practical purposes. See priced examples of Shaker boxes, a foot warmer, applesauce maker, and mortar and pestle in Kovels' latest issue.
More than 90 pieces of furniture by Wallace Nutting sold in Connecticut for prices ranging from $180 to just over $4,000. Nutting carved a permanent place in American interior design with his faithful reproductions of furniture from the Colonial era. Find pictured and priced cupboards, tables, chests and chairs in the December newsletter. And more than 40 sculptures by John Rogers were auctioned in Kansas. His plaster statues graced many Victorian parlors and picture literary and historical subjects, as well as scenes from daily life. Highest price—$649 for the "Council of War" group depicting Abraham Lincoln, General Ulysses S. Grant and Edward Stanton. More Rogers' groups are pictured with prices in Kovels' December issue.
Terry Kovel goes "on the road" with a visit to the Burton, Ohio, Flea Market, where she found bargain prices for "brown" furniture. The popular illustrated Collector's Gallery answers readers' questions about a Santa windup toy, an illustrated book of holiday poems, Le Verre Francais glass vase and a "Touring" card game. December's Dictionary of Marks lists trademarks found on German dolls. And prices of dozens of antiques and collectibles are listed in the Buyer's Price Guide.
Kovels on Antiques and Collectibles is available as a print subscription or as a digital version that is part of the Kovels.com Premium subscription.
Terry Kovel is America's foremost authority on antiques and collectibles. She is the well-known columnist and author of more than 100 books on antiques and collecting. With her daughter, Kim Kovel, she co-authors the best-selling annual "Kovels' Antiques and Collectibles Price Guide." The 2016 edition is now available at Kovelsonlinestore.com and local bookstores. They will discuss antiques and collectibles topics with accredited media. Photographs are available. Contact pr(at)kovels(dot)com.
About Kovels.com
Kovels.com, created by Terry Kovel and Kim Kovel, provides collectors and researchers with up-to-date and accurate information on antiques and collectibles. The company was founded in 1953 by Terry Kovel and her late husband, Ralph. Since then, Kovels' Antiques has written some of America's most popular books and articles about antiques, including the best-selling "Kovels' Antiques and Collectibles Price Guide," now available in its 48th edition. The website, Kovels.com, online since 1998, offers more than a million free prices, and includes a free weekly email, "Kovels Komments." It gives readers a bird's-eye view of the market through the latest news, auction reports, a Marks Dictionary, readers' questions and answers and much more.
Contact Information:
Liz Lillis
216.752.2252
Pr(at)kovels(dot)com