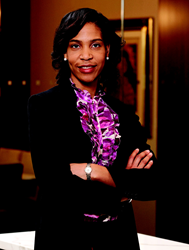 (PRWEB) December 03, 2015
Obiamaka P. Madubuko, a shareholder at global law firm Greenberg Traurig, LLP, was recently recognized as an "Attorney at the Top," by The Network Journal. For 2015, The Network Journal featured five African-American partners at leading law firms.
Madubuko is recognized for her work with clients on international anti-corruption matters and for advising companies interested in investing in emerging markets like Africa. With more than 17 years of experience, Madubuko is well-known for assisting her clients in navigating the legal and regulatory environments to expand their businesses.
Founded in 1993, The Network Journal is a magazine for black professionals and business owners. The objective of the magazine is to empower and educate its readers by providing news that affects the growth of business; featuring successful professionals; highlighting trends in key industries; and presenting information regarding valuable resources in the government, corporate, and nonprofit sectors.
Madubuko advises companies on a host of compliance and transactional due diligence issues arising under the Foreign Corrupt Practices Act, UK Bribery Act, the Dodd-Frank Act, Office of Foreign Asset Control, and other global trade regulations. She also assists clients with internal investigations, risk assessments, and independent audits, as well as in drafting, evaluating, and updating corporate policies to ensure compliance. In addition to her corporate advisory work, Madubuko is an experienced trial lawyer who has defended individuals and corporations in complex civil litigation and white collar criminal cases. She has represented clients before state and federal courts and agencies, including the United States Congress, the United States Department of Justice, the Securities and Exchange Commission, the Equal Employment Opportunity Commission, the Federal Election Commission, and other federal and state authorities.
About Greenberg Traurig, LLP
Greenberg Traurig, LLP is an international, multi-practice law firm with approximately 1900 attorneys serving clients from 38 offices in the United States, Latin America, Europe, Asia, and the Middle East. The firm is No 1. on the 2015 Law360 Most Charitable Firms list, third largest in the U.S. on the 2015 Law360 400, Top 20 on the 2015 Am Law Global 100, and among the 2015 BTI Brand Elite. More information at: http://www.gtlaw.com/.