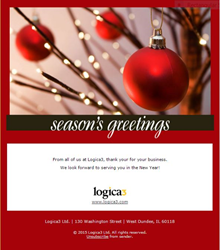 West Dundee, IL (PRWEB) December 07, 2015
E-greetings provider SaveATreeCards.com has launched its 2015–2016 corporate holiday site, expanding its customization, reporting, and customer branding options. A product of Logica3 Ltd., SaveATreeCards.com serves numerous Fortune 500 customers, as well as non-profit organizations, professional services firms, and other small businesses.
The site, located at http://www.saveatreecards.com, offers more than 150 professionally designed holiday business ecards—including many multimedia options. All cards are mobile-friendly. Businesses can select any e-greeting from this catalog and add their messaging, logo, website link, and even an additional graphic or photo. For those with specific messaging needs, SaveATreeCards.com will create a customized solution. Such personalization is helping businesses transform traditional seasonal greetings into brand- and loyalty-building opportunities.
"Businesses continue to seek ways to maximize customer touch points," said Lisa Dombrowski, President of Logica3 Ltd., creator of SaveATreeCards.com. "E-greetings can be a valuable component of communication and customer-retention strategies. For instance, our reporting tools enable clients to see exactly who views their ecards and how many times, so they can leverage popular messages in ongoing efforts."
"Our custom sites are especially popular," she added. "Customers can set up an approved card to be used by employees up and down the organization, and around the world. From administrators to sales reps to human resources personnel, everyone has easy access to an appropriately branded card to personalize and send to their own contacts."
Numerous clients have already set up sites with SaveATreeCards.com for the 2015–2016 season. Such sites offer secure, branded ordering portals; the customer's selection of customizable ecards; email address verification; scheduling and distribution; as well as reporting and analytics features. With its robust technology platform, SaveATreeCards.com can create most customer sites in as little as a day.
For standard ecards, SaveATreeCards.com requires no minimums and no setup charges. Pricing starts at just $195 for one ecard sent to up to 100 recipients—a savings of 50% or more versus printed cards.
The site will be live through January 31, 2016, and will accommodate orders throughout the season. Holiday ecard customers are eligible for discounts on an annual SaveATreeCards.com subscription.
For more information, call 877-237-5310 or email help@saveatreecards.com.
###
About SaveATreeCards.com
SaveATreeCards.com is part of a family of products and services created and developed by Logica3 Ltd., a strategic multimedia communications firm based in West Dundee, Ill. It is a premier online resource offering cost- and time-saving, environmentally friendly corporate greetings solutions. Now in its eighth year, SaveATreeCards.com is one of the most tenured and well-regarded corporate e-greetings providers, distributing more than 75,000 ecards each year.
For more information, visit SaveATreeCards.com or Logica3.com.