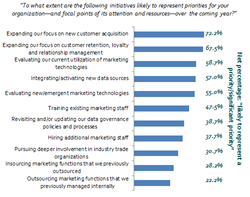 This research shows companies are continuing to invest in the latest tools, trends and analytics to win in the future marketing ecosystem.
New York, NY (PRWEB) December 03, 2015
Data-driven marketers are redoubling their efforts to ensure their staff and agency partners are equipped with the technologies to communicate with new and existing customers across the consumer purchase journey, according to DMA/Winterberry Group's Quarterly Business Review (QBR) survey. The Q3 2015 QBR also reveals a growing investment emerging on new customer acquisition, with no let-up on customer retention and loyalty. Nearly three out of four marketers (72.2%) said they will expand their focus on new customer acquisition over the coming year. More than two-thirds (67.5%) will focus on customer retention, loyalty and relationship management.
"This research shows companies are continuing to invest in the latest tools, trends and analytics to win in the future marketing ecosystem," said Neil O'Keefe, DMA's Senior Vice President, CRM and Member Engagement. "In an increasingly digital world, the loyalty of future generations of consumers is fleeting and will require more sophisticated and meaningful rewards to incent them to share their data. This presents both a challenge and an opportunity for marketers to increase personalization and relevance to their customers, requiring the correct mix of talent and technology to put today's consumer marketing data to use."
"Our latest research continues to confirm data's central role in both consumer and B2B marketing initiatives," said Jonathan Margulies, Managing Director at Winterberry Group. "Not only do data-driven marketers remain highly confident in the future of the practice, they recognize that ongoing value will be driven by an increasingly sophisticated use of data. As such, panelists indicated that they intend to lean more heavily on their agency partners to provide guidance in terms of data use, and would like to see these service providers invest and focus more on data functions over the next several years."
Panelists said they grew their investments on Web content more than any other channel throughout 2015, rising to 3.53 in Q3, up from 3.34 the previous period (with 5 indicating spending increased "significantly"). Other digital channels saw increased investment in Q3, including social media management, digital search and mobile.
Other Report Highlights:

Additional priorities for marketers in the coming year include evaluating their organization's marketing technology use (3.63), integrating and activating new data sources (3.63), as well as evaluating emerging tools (3.57) (with 5 indicating a "significant priority").
Commitment to agency partners is strong, with 75.1% of marketers stating they intend to maintain or grow their use of agencies over the next two to three years.
Research showed 72.8% of U.S. marketers and service providers said they remained confident in the practice of data-driven marketing (DDM) and its prospects for growth. Over half of all panelists (52.6%) said they "strongly agree" DDM is well positioned to grow in the future.
About DMA's Quarterly Business Review
The Quarterly Business Review is published by the Direct Marketing Association (DMA), with research and analysis provided by Winterberry Group, a New York-based strategic consulting firm serving the advertising, marketing services, media and information industries. The QBR's conclusions are based on results from an online survey of DMA members, deployed in October 2015. Q3 QBR survey data is comprised of the responses of 562 survey respondents, including 327 marketers and 235 marketing services (including agency services) and technology providers.
About Winterberry Group
Winterberry Group is a unique strategic consulting firm that supports the growth of advertising, marketing, media and information organizations. Affiliated with Petsky Prunier LLC — a leading investment bank providing merger and acquisition advisory services to companies in the same sectors—the Firm offers its clients strategic perspective that is unparalleled in its addressable industries, while PPLLC maintains exceptional relationships with industry executives and business owners. This combination of market intelligence, research and strategic operating experience (as well as the ongoing dialogue among buyers and sellers of marketing businesses) provides an educated outside perspective that we bring to each engagement. For more information, visit:http://www.winterberrygroup.com
About the Direct Marketing Association (DMA)
The Direct Marketing Association (http://www.thedma.org), founded in 1917, is the world's largest trade association dedicated to advancing and protecting responsible data-driven marketing. DMA represents thousands of companies and nonprofit organizations across the entire ecosystem of data-driven marketing – including supply and demand sides. As such, DMA is uniquely positioned to bring together all industry participants to address the most significant challenges and advance solutions that benefit the marketplace. DMA's solutions bring forward INNOVATION that accelerates business growth, EDUCATION that develops talent and ensures compliance with ethical and best practices, and ADVOCACY that advances policies which support innovation in marketing. DMA's signature event, &THEN, is the largest global event for data driven marketing and attracts the industry's top leaders and practitioners from around the world.