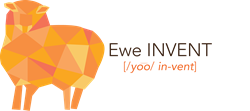 Kansas City. MO (PRWEB) December 04, 2015
Tom Gray, founder of The Handy Camel, launched a new platform for inventors to bring their ideas and potentially send it off to market. Ewe Invent (named after a female sheep) is a new online source for inventors to bring light to their products. Tom Gray developed Ewe Invent with two objectives: make products look professional and help inventors partner with the correct company to license their products.
Ewe Invent is set up so inventors submit their prototype online for Tom to review it. If it is ready, he can present it to his network or take it to market under one of the Handy Camel brands. Inventors can expect free advice and a full line of services to get the product market ready. No pesky programs and no full packages are offered, so the inventor gets only what they need. After submitting a product to Ewe Invent, within seven days, inventors will hear back. Tom will either give advice to help the product to the next stage, or move forward with in-house services to get them there.
Ewe Invent offers videography, website design, photography, sales sheets, product reviews, and press releases. It is important to Tom to give entrepreneurs what they need to showcase their product professionally. Ewe Invent also uses trusted vendors like product designers, prototype companies, and patent and trademark attorneys. With years of tradeshows and networking, Tom has developed relationships with big names and companies to release new products to. They are trusting Ewe Invent to bring them only the best inventions.
With over 13 years of experience in small businesses, Tom is ready to give back to inventors with Ewe Invent. Gray grew up farming sheep in New Zealand, then branched out and got involved in entrepreneurship and inventing in his twenties. He wants to help great minds find the "problem" of why they have not had success in the past. This is what motivates Ewe Invent.
Inventors from around the world can capitalize on Ewe Invent and gain insight on how to market their product. Ewe Invent is the newest launch pad for inventors to bring their products and get advice on how to make it better and marketable. You can skip the long, drawn out process of going company to company because Ewe Invent helps you first-hand.
About The Handy Camel
The Handy Camel launched Ewe Invent to provide services and advice to inventors. They bring to market beautifully designed products that provide outstanding user experiences to make chores less of a chore.
Connect with The Handy Camel on Facebook, Twitter, and LinkedIn!