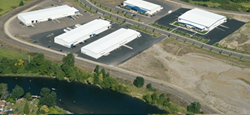 Just 30 minutes north of Portland, Oregon, business and community development are booming at the Port of Kalama.
Kalama, Washington (PRWEB) December 04, 2015
The Port of Kalama board of commissioners has awarded a contract for the construction of thousands of feet of new warehouse space to accommodate business growth at the Port. The contract was awarded to JH Kelly for $4.5 million and includes the construction of a 17,500 square foot warehouse and a 45,214 square foot building for Steelscape expansion.
Steelscape is scheduled to move into the larger facilities to expand its product lines while NW Innovation Works will expand to the 37,150 square foot warehouse formerly occupied by the steel coil company.
The construction is expected to start at the end of the year and run for eight months. General business activity at the Port will not be interrupted during this time.
About Port of Kalama – Where rail and water meet
The Port of Kalama is located in Southwest Washington on the Columbia River and immediately off of Interstate Highway 5. The port exists to induce capital investment in an environmentally responsible manner to create jobs and to enhance public recreational opportunities. Port of Kalama's industrial area includes five miles of riverfront property adjacent to the 43' federally-maintained deep draft navigation channel of the Columbia River. The Port is served by the Burlington Northern/Santa Fe and Union Pacific railroads. There are over 30 businesses located at the Port of Kalama, employing over 850 people. Port of Kalama offers all the superior facilities businesses need to thrive, and an unsurpassed quality of life. The port offers shovel ready sites, a new Industrial Park, state of the art Marine Terminals and transportation accessibility to rail and highway all just a 30 minute drive to the Portland International Airport. Port of Kalama also offers high-bandwidth communications, with dual access fiber-optic service to Seattle and Portland. Properties currently available at the port for businesses wishing to expand and thrive: Visit http://portofkalama.com/available-properties/.
Contact: Liz Newman, marketing manager, Port of Kalama, 360-673-2379
or Claudia Johnson, PR, 503-799-2220.